Just like I promised, there is a new method for hacking in DXSM:
Behold - the Resi 1 light puzzle!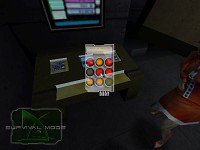 Okay, this might take a while to solve...
This should prove a far more formidible challenge to players whilst getting battered by undead hordes than the usual "look for multitool, wait, wait, wait some more... DONE!" style most players are used to.
In other news - there are some seemingly silly, but quite fun code developments,
Players will soon be able to dance.
Players will soon be able to sit in chairs like NPC's.
Players meshes now rotate relative to their swim direction whilst swimming.
and some important, and interesting code developments:
Bullets now have a firing cone, instead of a firing pyramid. Or in other words - bullets now hit a wall in a circle instead of a square. (Credit: DrDumbLunatic/DDL)
Several updates to make the gamemode more MTL-like, including fixing vanilla DX's Ghost/Fly bug, adding a BehindView toggle to the keybinds window, etc.
New admin commands, that give the user infinite ammunition, and infinite flashlight energy.
The laser sight works in MP now!
There is now slightly modified hitzones.