Sword and Shield: A Land Divided - Regarding Alpha Release
---
Sword and Shield: A Land Divided is planned to have many features and specialties, ranging from as simple as a larger map to something more complex like starvation killing off troops, interactive and explorable scenes, and a mainline quest! The Following will be included in the Alpha Release. We cannot pit a date on the release, but at least you know what you can expect!
---
Five of the official factions generally ready for use!
The Adenian Empire,
The Kingdom of New Adenia,
Kingdom of Norla,
Khzari Khanate, and
The Alinsa Republic
New Scenes such as Castles, Towns, and Villages!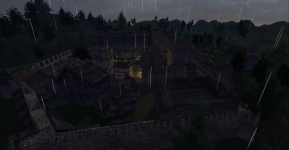 Now I'm sure all of you have seen the 4 nice pictures i have up at the time of writing this news, but those two castles will not be the only ones added! I'm working very hard at new towns and castles, maybe a few villages will be remodeled! These scenes will not be like the small, very boring scenes currently in Warband. They will utilize much if not all of the scene area given to them, offering many places to walk and enjoy the scenery, explore buildings, and come later releases, maybe even break in and enter buildings at the risk of being caught by the guards!
New Equipment and Troops, Along with Features!
Sword & Shield will offer a variety of appealing and functional troops, features, and weaponry. In future releases you can expect "Accidentally" decapitating an ally who decided to get in the way of your swing (Which will be a toggle-able feature, do not despair!) or watch bodies fly after you ordered a catapult to hurl a giant rock at the enemy wall! While these wont necessarily be included in the Alpha Releases, you can expect my wonderful team to produce some nice armors and weapons to play with in Alpha, and myself to supply you with well-rounded troops. New Adenia's Cavalry might make short work of Empire Light Infantry, but Empire Spears may also get those horses, so you may need to make sure your archers provide covering fire!
Much, Much more!
Sword & Shield is currently in early development. We cannot for sure tell you exactly what you will get along the road, so make sure you stay tuned for more news, updates, releases, and media!
With good graces, and thanks for your support,
Evan Darksky (Ajolin) and the S&S:ALD Team.
Also, as an after-note. We are still looking for people to help construct the mod. I have two Modellers and a Historian, along with a coder. My lead Modeller is also a texturer, with experience texturing Rome: Total War units. If you can lend support, with either Modelling, Texturing, Coding [Via M&B: Warband Module System (Python)], Scene Editing (M&B: Warband has an In-Game Editor for this), or Publicizer (In-Game Footage, such as for Teasers, Major Update trailers, etc. And later on, and this wont require my verification (but i do love hearing about them) Let's Plays of the mod.), then please, send me a PM here on ModDB, a PM on the Taleworlds Forum (To either Ajolin or EvanDarksky), or post on the Taleworlds Forum thread here. Again, thank you for your support!