Story:
All the children in school are bullying Anna. Her talking teddy bear Mr. Huggles comes up with a great idea to cheer Anna up: playing hopscotch. But to do a hopscotch diagram Anna need some paint. Mr. Huggles knows that all the children has stolen paint kept inside their bodies so he suggests that Anna takes all the paint she needs to do a decent hopscotch diagram. Anna who always listens to what Mr. Huggles has to say thinks it is a wonderful idea and she begins the harvesting. But she has to hurry up before the bell rings.
Genre & gameplay:
Nevermore is a hack n' slash game that features a little girl with an enormous knife that needs to gut as many children as possible within a timeframe.
She also has to collect enough blood with her teddy bear.
Winning: Get Mr. Huggles soaked in blood before the time is up.
Loosing: Not getting Mr. Huggles soaked in blood within the time frame.
The bullies will try to hurt Anna and if they manage to hit her Mr. Huggles will drop some of the blood he is keeping as he gets squeezed.
Controls:
The character is controlled with the keyboard in a 3d landscape.
Manoeuvring the avatar around in the schoolyard is done by running left, right, back and forth.
Furthermore Anna is able to jump and she has various moves that allow the player to kill their opponents in different ways.
Anna can also collect blood with the teddy bear by holding it above her head and stand under a stream of blood pouring from her victims abdominal.
Anna is small, fast and alone while the bullies are big, slow and has strength in numbers.
GUI:
The camera will be placed behind Anna all the time and follow her through the game. The positioning will create a slight frog perspective so Anna's opponents will look even more intimidating.
In the top right corner of the screen there will be a picture of Mr. Huggles that will be soaked in more and more blood as Anna keeps on harvesting.
There will also be a timer that shows the player how much time he/she has got to fully soak the teddy bear.
Target audience:
Adult people with black sense of humour. To them it will be a funny game. Showing a little girl gutting children accompanied by Mr. Huggles's encouraging remarks just is funny.
But greater thought of these game, is to show the extreme way what can happen when someone is bullying today's children.
The Characters
Anna:
Anna is about 8 years old. She is immensely small for her age and she always carries around her teddy bear Mr. Huggles.
She is skinny of build and has white hair. She likes wearing dresses and having her hair put up with a red silk ribbon that she got from her grandma.
She also carries around a very big knife that is a bit longer that Anna herself.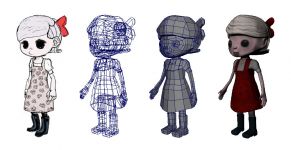 The Bullies:
The bullies are big and stupid. They are evil and will try to hurt Anna and Mr. Huggles at any chance.
They are the only people in the schoolyard and they keep all the precious paint.
The Bullies will have different death animations, because of ragdoll, and will therefore also have different ways of spilling blood.
This makes it difficult for Anna to collect blood.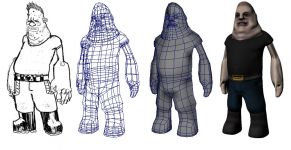 Mr. Huggel:
Anna's teddy bear who (at least in Annas mind) has the ability to talk and does so in a lavish quantum.
Mr. Huggles is full of ideas that very often has killings of other people as a main theme.
Anna got Mr. Huggles from her big sister who got insane and committed suicide. Before doing so she made some nice contributions to the looks of Mr. Huggles. For instance she put some neat stitches in front of the mouth of him
Download now: