The new map "Operation Market" is to be what Operation Market Garden really was like!
The allies start from an uncapturable base pretty much in Britain. In that base is: 1x B-17, and 2 C47 Skytrains!
The alllies job is to bomb the Germans in their towns with the B-17 without getting shot down, and then using the C-47s to initiate a MASSIVE airborne drop!
Operatoin Market is set to be the absolutely LARGEST map in Operation Market Garden mod, and is also set to be the most fun.
The Germans have an initial advantage, due to them having the time to setting up defences, and having AA emplacments, panzers, and hanomags. If the Americans (The Allied player on this map) manage to capture a single point, the get a Sherman available for use at that specific point. The Americans get another tank whenever they capture a new point, so if the Germans lose alot of points, then the Americans will have alot of tanks to strike back!
There are 3 major points on this map. Nijmagen, Eindhoven, and Arnhem. There are 3 other, rather, minor points. Valkenswaard, Grave, and Son. All of the points on the map are smaller than they would be regularly in game. For example, in the new map Arnhem, Arnhem is shown pretty much to scale. In O.M. (Operation Market) they're shown as about the size of the allied base on Battle of the Bulge.
I have a kind of ad today: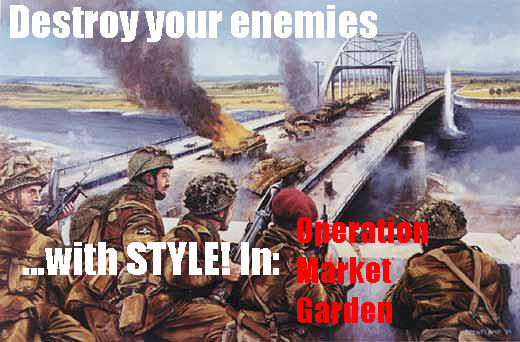 Stay tuned for the next update. The map: Wolfheze!