Game GUI
The game's GUI has been upgraded and I'm eager to show the new look of Survius.
The best way to show the change is with a screenshot of the server browser. This is the main screen of the game and allows you to join existing games, as well as create your own (private or public). Here is how it looks.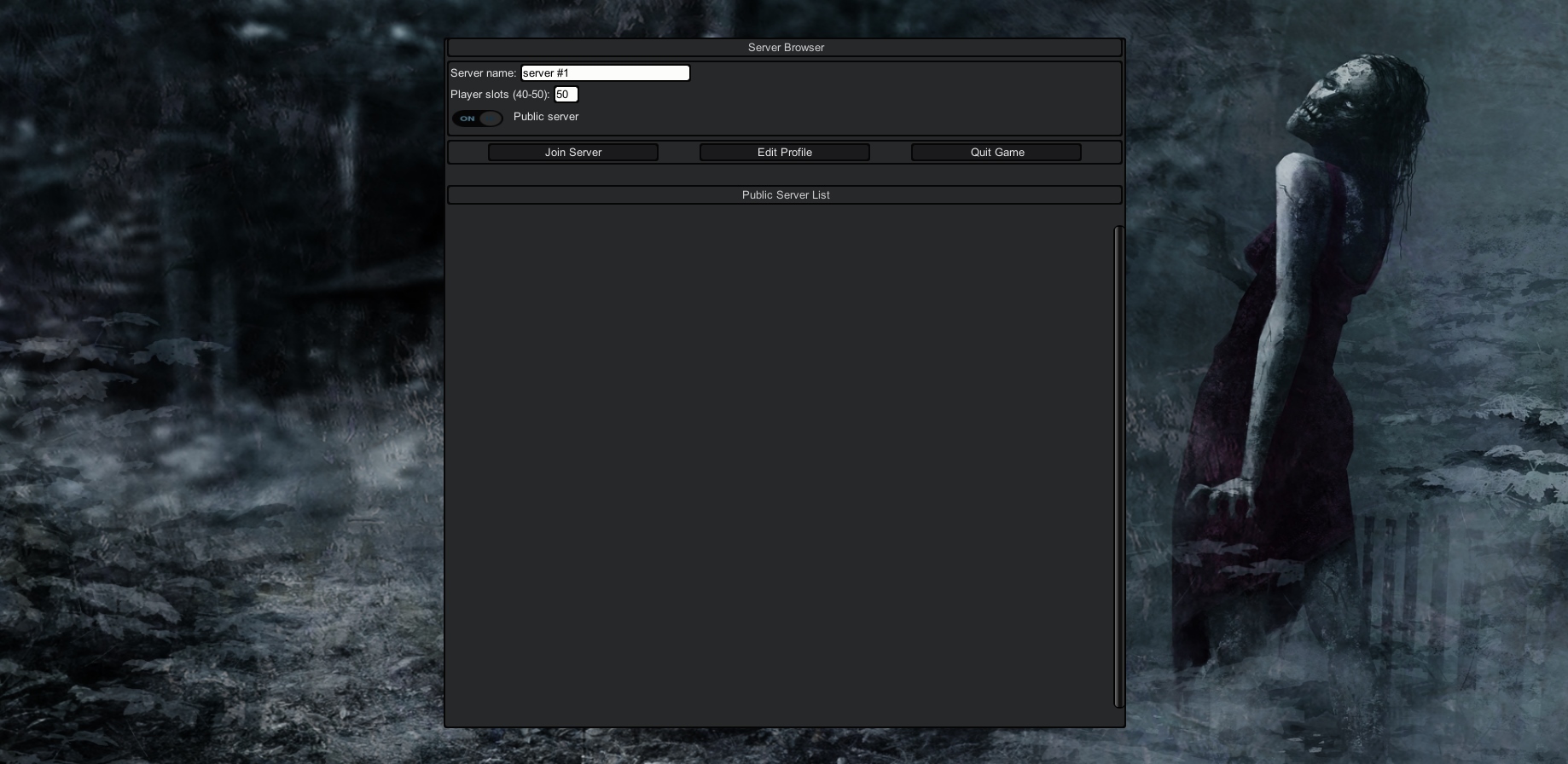 Click the image for the full screenshot. The background is custom made for me by a gifted artist called Jordy Klaver.
On the screenshot you can see a button called Edit Profile. Clicking this will open a browser window that allows you to customize how your character looks in game. You can choose between two types of skin color and various t-shirts.
Here's a sneak peak of the Player Configuration screen: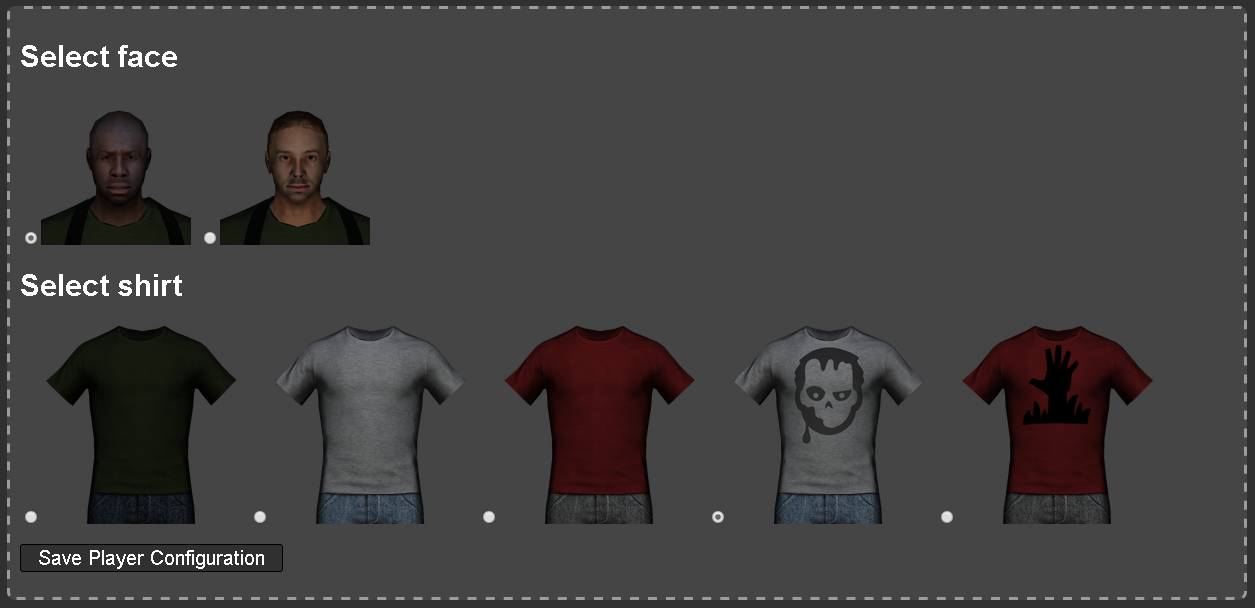 Again, click for the bigger picture.
Design your own t-shirt
Now this is where I am asking for the help of YOU GUYS AND GIRLS! I am a programmer, but my no means a designer. If you like to have your own t-shirt design featured in my game, then please read this topic: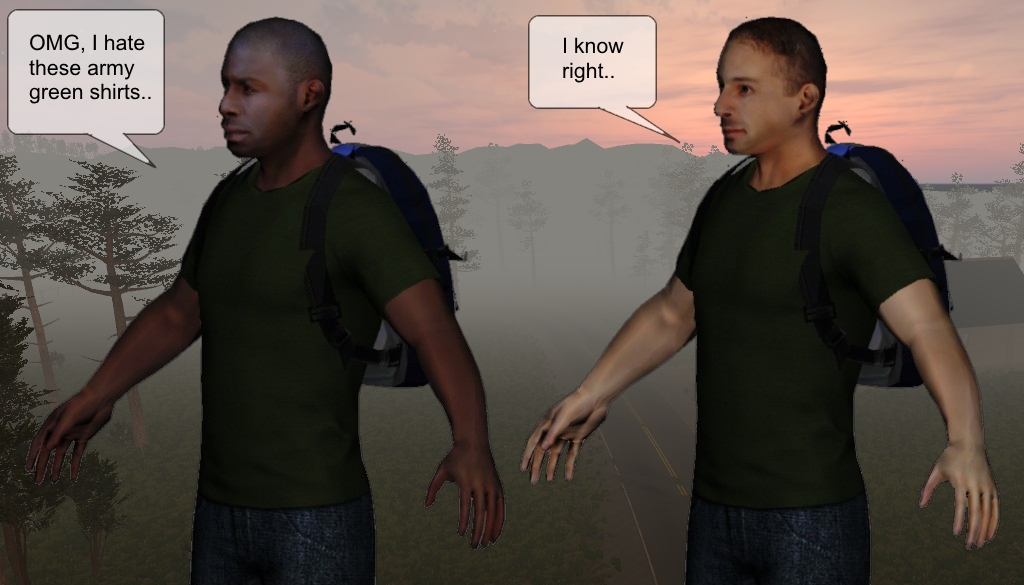 Hunting
I have added a basic hunting system into Survius. The woods now spawn deer (buck, doe, fawn) which you can hunt. When they spot you they will try to run away from you, which might open up opportunities for group hunting.
Here is a short clip of the hunting system in it's initial setup.
Killing a deer gives you raw meat, which you obviously need to cook/grill. So you can now build a campfire from the logs you find spread around on the island. I might add the ability to harvest logs by hitting your tree with an axe later on.
After a set cooking time your meat will be ready for consumption.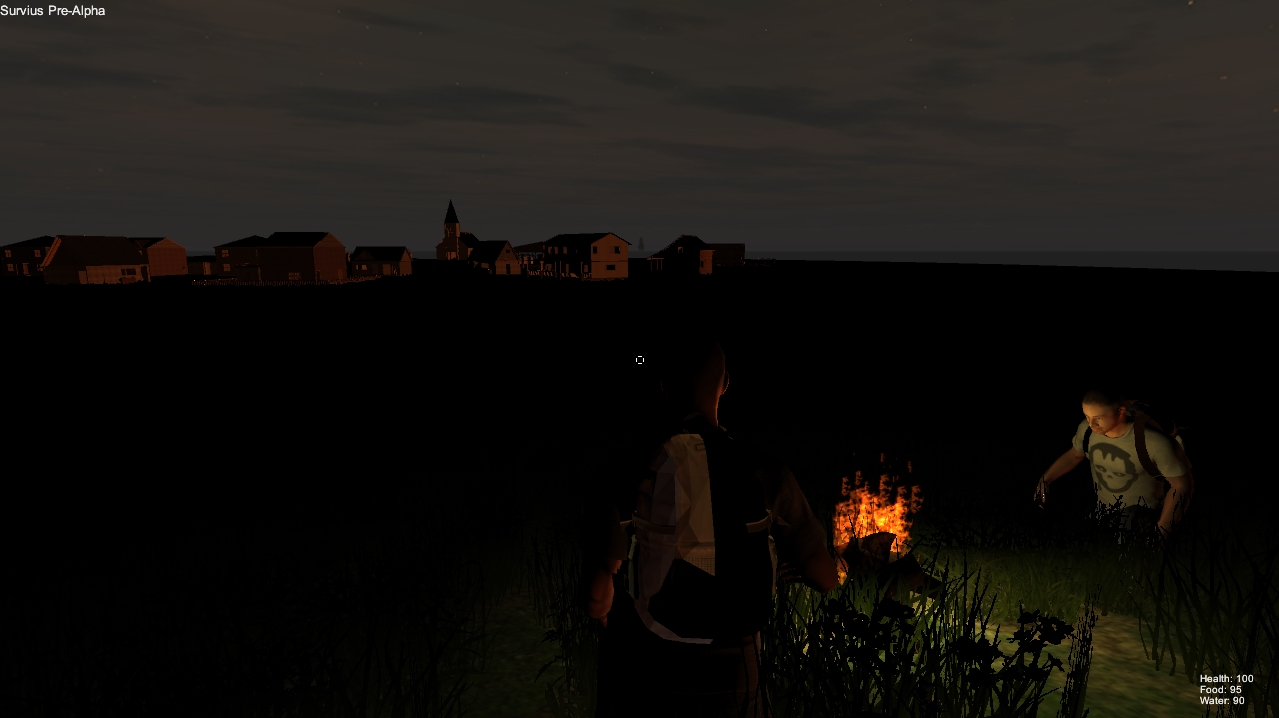 Surrender system
Also new in this version is the surrender system. This is an effort to prevent Kill on Sight and to trigger coop and trading. When you are for example inside a house with one entrance, and while scavenging for drinks two or more unknown players walk in.
That could be a moment you click the Surrender option. This will:
start a timer which will count down 3 minutes. After that counter hits 0 you CAN (but not must) leave surrender move.
freeze your player on the spot, with his hands in the air.
drop your gun and ammo clips on the floor automatically.
make you invulnerable to bullets.
This system might need tweaking and input is welcome on the forums.
Alpha version release
The first alpha released is expected the 31st of March if progress is steady like it is right now. The alpha will be free and available for everyone. If there is any news about the alpha I'll post it here in the news section.
Thanks for reading, and please leave your comments below!