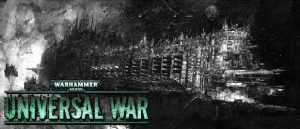 Welcome to Another Phoenix Mod Productions Broadcast!

With our upcoming modification for Star Wars: Empire At War, we have decided we will attempt to include all of the codexed races from the WH40k Universe. Now on the front this causes some problems with the Space aspect, as many of the races are short of ships or simply have none at all.
Thus comes this competition, we are looking for any concept art for ships of any class for any of the following races:
Ordo Malleus (Daemonhunters)
Ordo Hereticus (Sisters of Battle)
Ordo Xenos
Adeptus Mechanicus
Orks
Eldar
Dark Eldar
Tau
Chaos Daemonships
Tyranids
Necrons
Any Other Miscellaneous Ship You Can Think Of Which Isn't Chaos or the Imperium (as they have loads of codexed ships)
Entries should be emailed to Phoenix-auria@hotmail.com or Posted on Our Forums at Warhammer40kuniversalwar.foren-city.de
The deadline is the final release of this mod, and as such is currently unnannounced. Any ships deemed good quality and fitting to the mod will be produced and modelled into the modification. The creator of said models will also be entered into the Credits for this modification. Entries are not limited to one per person, basically we just want some more concept art! :P
---
Thanks For Reading
WH:UW Team!