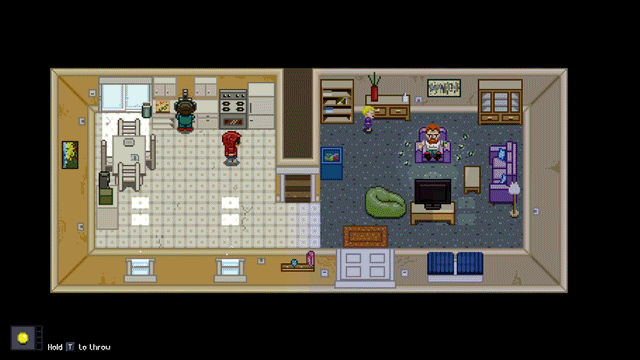 It's been a while and many updates since I posted a new article. So here is an overview of the most recent and important improvements to Mayhem In Single Valley. The demo feels really stable now - so if you haven't tried it out yet now would be a pretty good time to do so. Thanks for all the feedback so far.
Happy Gaming - Brian
IMPROVEMENTS
Added load from previous checkpoint option.
Game auto loads from checkpoints instead of returning to main menu after dying.
Item selector sprite changed to a hand.
Currently held items and equipped items now appear with a bounce animation when selected.
Item name box added to inventory.
Inventory size reduced by one row when bag is equipped.
Added animating sprite hint to find passport objective.
The demo now AutoSaves when new quests are activated and after more involved objectives are completed.
Clauses added to restrict opening menus opening during in game animation sequences, which caused buggy behavior.
Minor performance tweaks and added new story clauses.
Beating opening dream game makes getting out of bed a lot easier (more bonuses will be added for full game).
Updated to Unity 5.6.1.
Lots of minor performance tweaks and added new story clauses
FIXES
Added lots of safety clauses to stabilize menus especially for loading and saving scenarios.
Fixed broken spider mini quest.
Stabilised the visual and auditory headache effects, which could be inconsistent in strength/appearance when loading from a previous, save.
Dialogue clause added to protect follow up functions from being overridden.
Fixed bug where you could not pick up savings if bedroom wardrobe is in contact with objects such a crumpled soda can.
Fixed bug where game hints failed to display in opening minigame if starting using the continue button when no saves have been created.
Save files now go the local app directory to avoid using old save files in new builds, which can cause issues if updates contain new features etc..
Fixed bug where quest was not activated if you interacted with treehouse window quickly after the treehouse cinematic.
Bug that stopped player from entering doors after dad beer quest fixed.
Saving/loading while carrying Baby Bro player speed fixed.
Audio not starting from correct position on load fixed.
Lots of minor bug fixes and code optimizations.