A bit of a back-story to Aaargh
What started as a side project between two people, has spanned into a piece of work that has seen many ups and down in a very short time. The first time I (Danny Goodayle) spoke to Kris was after we mailed each other a couple of times after both of our projects on IndieGoGo had failed their funding runs. Disheartened, I continued working on Lazarus in my own time but at a loss due to the lack of funding. Originally we had first planned on making several quick games using Unity, in order to establish ourselves and our style, along with bringing in, some sort of revenue. However over time and a couple of contracts later, we started working on Aaarghmageddon which was originally supposed to be a top down, zombie controlling RTS game.
After a few attempts of making the top down game a unique and interesting game to play we found ourselves stuck with ideas, but how could we progress the game? Where do we go from here? These questions were answered when, after throwing ideas about making a 2D version of the game, we began development and started to prototype it.
Within a week of the project spawning, we created a game we were happy with and started to show this prototype around, mostly to some close friends, who seemed to love the new art style. We began to think that we were onto something, so we developped it and here we are, a few months down the line with weeks of time invested into this simple concept.
What to expect?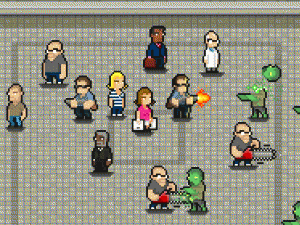 The very first concept for Aaarghmageddon
Within the demo we plan on showing a brief glance at what we've been working on, this includes the interface, a couple of characters and a look into how to play the basics of the game. The main purpose of this demo is to show the new direction that Aaarghmageddon has taken. (The old version can be found here - Aaarghmageddon.com) .
Obviously, the most important part of the developpement is the players' s feedback, we've been very harsh critics of our own work so far, but what can we really do to approach even a little bit, the elusive perfection of game development?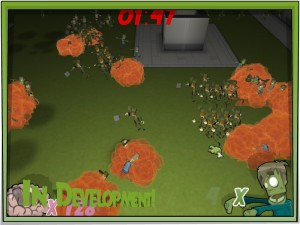 Aaarghmageddon's top down prototype
We are at the stage when we are ready to flesh out the levels of the game and we are happy with the style, layout and the general look of things but we need your opinion of the game! Be as harsh as possible, what do you like? What don't you like? If you don't like anything about it, let us know! (Within reason of course, troll comments are pointless :) )
At the end of the day, we are here to make games that we would like to play (and hopefully we won't be the only ones!) and if we can do it, then I will feel like we have achieved something.
Thanks!