Today we released a new version of the game featuring many bug fixes and improvements to the gameplay. It brings you fixes such as:
World boundaries and prevention from exiting the world
To prevent players from getting outside of the actual map and walk around in the water we build invisible walls (trough which you can still shoot) that block the player as soon as it collides with the walls. If are still able to leave the main map somehow and enter the water the game will automatically reload the level. This feature will be removed when we have realistic water physics added to the game and swimming.
The World
We worked on some of the unfinished parts of the map and added more models, trees and plants to the map. We aren't completely finished with the map yet, but we are making a good progress.
The Menu and UI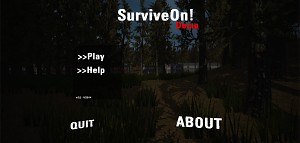 We have made small changes to the menu (colorchanges and more text in some categories).
We also changed the skin style of the pause menu in the main level.
We are currently working on new animations for the zombies but it will take a while until they are implemented in the game.
If you want to download the new version you can do that here: