While it has been some time since our last update on Mod DB, Work on SMOD: Tactical Delta 6 continues with many new features being implemented and tweaks made to almost every aspect of the mod. And we have much bigger news coming very soon!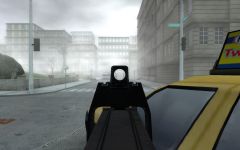 Perhaps the biggest feature we have is the new Bandaging System. Instead of the typical Health Regeneration or Health Items that other First Person Shooters use, SMOD: Tactical Delta 6 requires manual treatment of wounds.
Treating wounds in-game is a quick, simple process that adds depth to the tactical combat SMOD: Tactical promotes. When you press the appropriate key, You will lower your weapon and automatically start the process. During this time your health will be displayed to you to accurately gauge how wounded you are. You cannot shoot at this time and you will move slower during the treatment but it can be canceled at any time should a threat present itself to you during it. You can do this an unlimited amount of times and bandaging is not limited by items in your inventory.
Combat is being rebalanced around this new form of healing. Expect enemies to be less in number but each hit you take is more meaningful. You have to decide if you can last for the duration of the fight or retreat to heal. Half-Life 2 campaign fans need not worry; the bandaging mechanic is balanced to it's gameplay too.
In the above screenshots you can see one of several new community maps Delta 6 is adding. This one being dotd_crookcounty. As well as the G3A3 (community-made model), One of many new weapons Delta 6 adds.
Many changes have been made to the sound and graphical effects. Including highly improved muzzle flashes and sounds with "distant" effects for NPC gunfire as in Half-Life 2. Many bugs from minor to major have and continue to be fixed to the best of our capabilities. We hope that you will find Delta 6 to be our most polished release to-date.
Check back next week for more. As we have a massive media release planned including new gameplay footage!