What happened to kickstarter ? - Amazon payments happened thats what !
Hey welcome to another update on Last of humanity !
We've got a a lot to talk about this update from the good to the bad the bad ain't going to kick us down forever and its only a temp setback.Lets go with the bad first for one we planed to launch kickstarter on the 4th July its been a few days since that, we had a few hiccups along the way the greatest being amazon payments. You've pretty much gotta go through 3 step process and thats on their end.
Direct Quote from Bio himself
"It seems "Amazon Payments" has to first "ACCEPT" your bank account, to clear. Awesome that happened YAY! OK now what, now it has to Authorize your Account Information, AWESOME!!!! ITS DONE ALREADY!!!!! Last but not least, you have to wait 5-7 business days not counting holidays, and Weather. Wait What? O_o"
We're still waiting for the get back this is the reason we can't launch kickstarter yet but fingers crossed *looks* it'll be over soon. The good news however is besides the website we were prepared. Okey guys its a mostly digital reward scheme cause we'd like to be able to put more money into the game and make it look great and fill it with content rewards if possible. Every contributor on the kickstarter will be have a personal page on our kickstarter wall it will display an extensive amount of information if you let it from what rewards you got at kickstarter to who else you invited to the game almost like a family tree/or friends tree. This will somewhat integrate into our point reward scheme for promoting the game more on that in a minute.
We kinda burned ourselves out getting ready for the Kickstart launch, the amazon payments thing although a set back gave us some room to breath and but they're s still this uncertainty about when we can launch it. But we're using the time to recheck everything we've done and polish the page so we can provide the best possible informative and engaging kickstarter so pull you guys in.
We've also got some preview image's to show off what our physicals may look like from shirts, to mouse pads. There is some more choice then what we're going to show you but we can't cram it all into one document.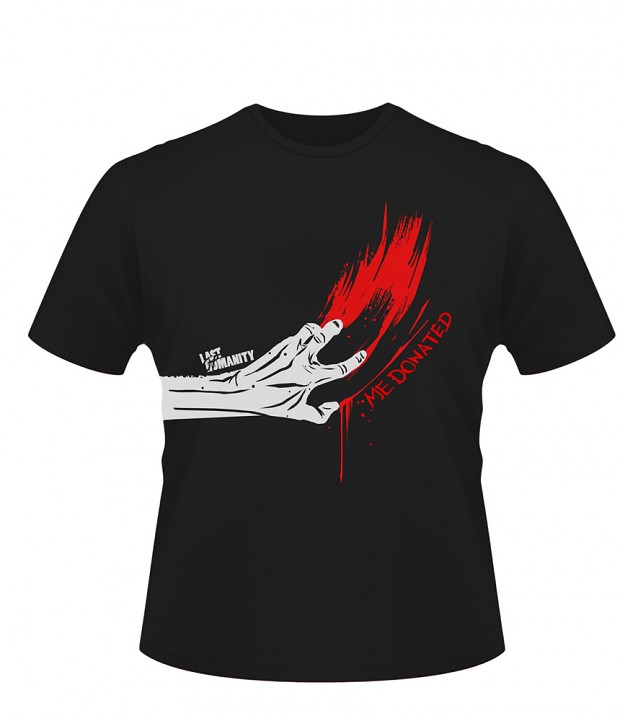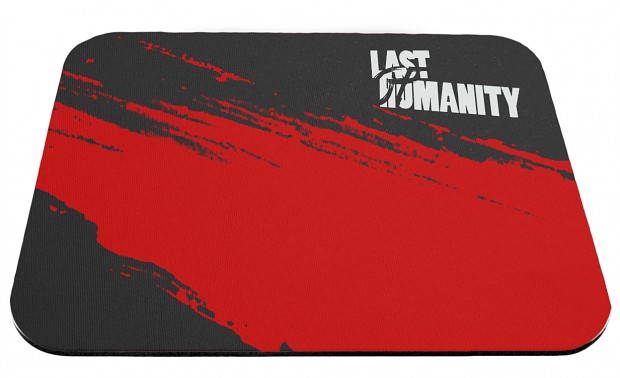 Help us spread our game
The following paragraphs are snippets of the way project leader Bio would describe the game we've each got a different way to talk about it. So when your trying to introduce a friend to our game this ground starter. We had to think about how to compress what we were a lot some other dev's here may know it. When your trying to doing something new and different whilst talking about your game where do you start. So heres some starters and a reminder to those new as to what we " last of humanity" are.
"Last of Humanity" is a Procedurally Generated, and Persistent Realistic Zombie Survival Style MMO using First Person in game view from the eyes of the NPC/Player which you are controlling.
You take control of this Character at the start of the zombie infection. The world around you, bustling with the lives of the population which is over 500,000 that dwells within the city you start in. The infection starts to spread, and your reality will never be the same.
Fight the Hordes, fight the Players, fight the NPCs to stay alive. Your actions holding real merit in the world, you have to choose between rough moral choices, something that you would do in any other game. Could be what kills your character in this one. The world of the living is only a tip of the iceberg in the game. Once you've died, by a infectious bite of course. Your choices to devour those who you were once fighting with are almost endless.
More news
So we've got some more concept art for the game to give you guys a vivid image of what we're got going for the game bare in mind we're trying to capture the emotion of characters in our world and even that of the zombies/infected they will not all move and behave the same and maybe almost act human in case's. But we can't show you until kicktstarter we've got to keep some eye candy for ourselves for a little while longer. But we can show you what other of the previews of what we're going to present at kickstarter. We've also got a basic map that will grow over time to represent what we've achieved on our threshold goals for cities and locations around the world. But I can't tell you now but we'll let your imagination swirl when the day comes.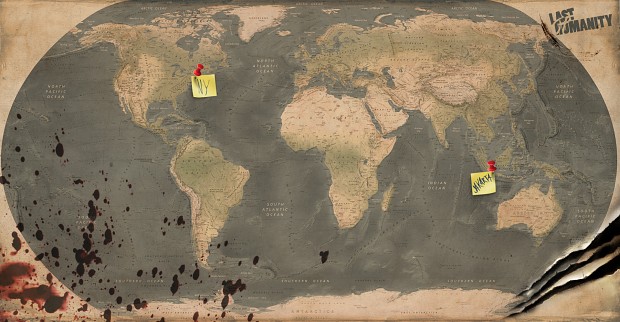 Point Referral System
We'll be launching a kickstarter like system on our website whilst the kickstarter is running. We'll be using it to spread awareness in a clearer cut format if your a contributor or a member of our site it'll link up to your account and allow you to track your contribution and rewards. Oh rewards ? Well similar to some other games where they get to you like a page and throw in some coins. We'll be running something similar but we're trying to cover as many as the base's as possible some of you guys might think of it as a hassle. We're sorry if your not the kind that up for it but for us it'll be a big favor. Let them know !
You'll be rewarded points for your contributions these can be redeemed for game related rewards + Regular/Top contributors will get access to special access weekends during alpha and beta. There's more to come about that during kickstarter though. The thing about this system is you'll be able to get a chance to try out beta and alpha even if you didn't contribute to kickstarter some people say. I'd love to play this game but I can't afford to but they talk about and introduce their friends to it at every chance we plan not to leave you guys out.
Another feature is tickets as you use the system and introduce friends to it you'll gain tickets that you can use yourself or share with friends that will give you a temporary pass to the game. There will also be special test events happening in the game when we test new features of the game these events will be available as like stress test or game event tests to those on the system.
Share it!
So its a big post this week and again and again we'll remind you share it love it , sleep with it if you have to wait what ?.
We mean flood it really get excited with us share it,link it may be subtle now but if you've looked we're growing a fan base in a variety of places from steam,twitter,face book to Indiedb Give us that fighting chance and a morale boost. Everyone new that follows us gives us the energy to get through the next day.
Our budget is the energy of our fans. Well thats not 100% true but it helps <3
Steamcommunity.com Steam Greenlight Concept Stage
Steamcommunity.com Indonesian Steam Community Page
Twitter.com You guessed it
Irc #LastofHumanity on the Freenode Network