AaaaaAAaaaAAAaaAAAAaAAAAA!!!
onomatopoeia/ 1: The sound emitted by a person falling towards the Earth at a high speed, after jumping from a low altitude, with a very small parachute. 2: The sound of pure exhilaration mixed with terror.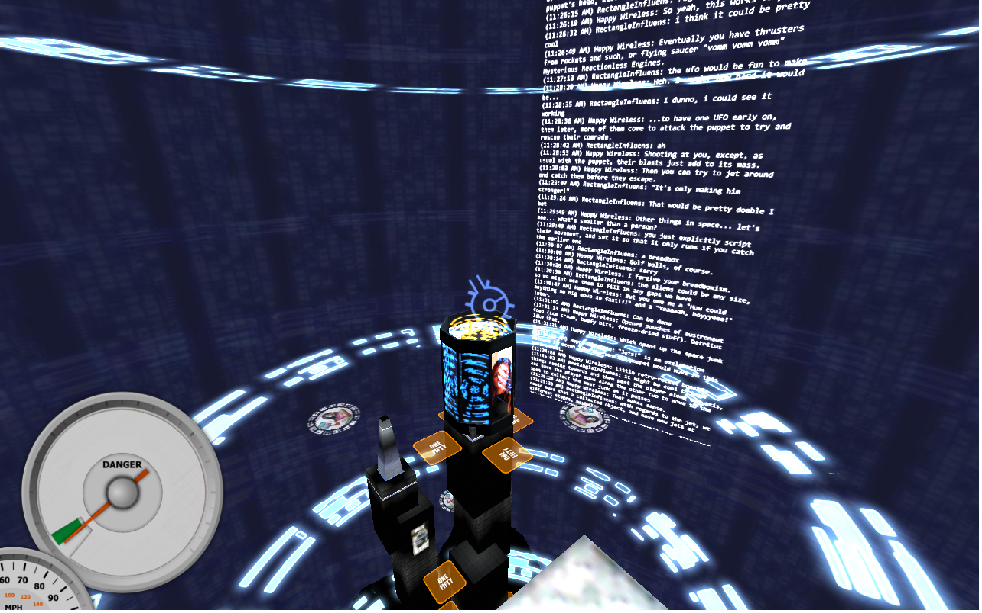 The view right before a launch: Note the "Chitter" "Cheeps" from fans projected in your HUD. Don't believe us? Check your Merriam Webster. This is the feeling we had when Dan Brainerd (AKA Brainy Dan, AKA the company funny man and idea generator) pitched the game concept to us. Dan is a man of few words -- this was his pitch. At the end of January, we released video footage of a prototype which received over 60,000 views in the first week. Sites like Joystiq have gone as far as to anoint it "Title of the Year." AaaaaAAaaaAAAaaAAAAaAAAAA!!! was the sound we made when we saw the press coverage and gamer excitement -- now, we had to actually deliver a great game or risk being thrown off a cliff with no chute.
So, how did we go from the BASE jumping footage to a game concept that captured the same excitement, but looked nothing like it? In BASE jumping, you jump off a Building, Antenna, Span (bridge), or Earth, then launch a chute -- how could we possibly translate the feeling of the wind in your face or the danger of your body being dashed against rocks into a computer game?
Ichiro, a physics major back in the day, suggested "stretching" physics and focusing the game on weaving through intricate obstacles. Imagine weaving through an intricate tangle of skyscrapers. Imagine flipping off spectators for points as you pass within spitting distance of them. All the while, you gain fame for your bravado, executing ever-more complex stunts. Within 8 hours, we had a prototype -- crude, but something we couldn't put down.
Why stop there? Instead of buildings connected to the Earth, the player jumps from monoliths floating over the skies of Boston. Instead of being 100 stories high, they are 10,000 stories high. Is it possible to create a playable prototype from sketches in 8 hours? At this point I'm sure you are saying... yeah right 8 hours from sketches to playable levels? ...and the frog turned into a prince and we all lived happily ever after!
Well sorta....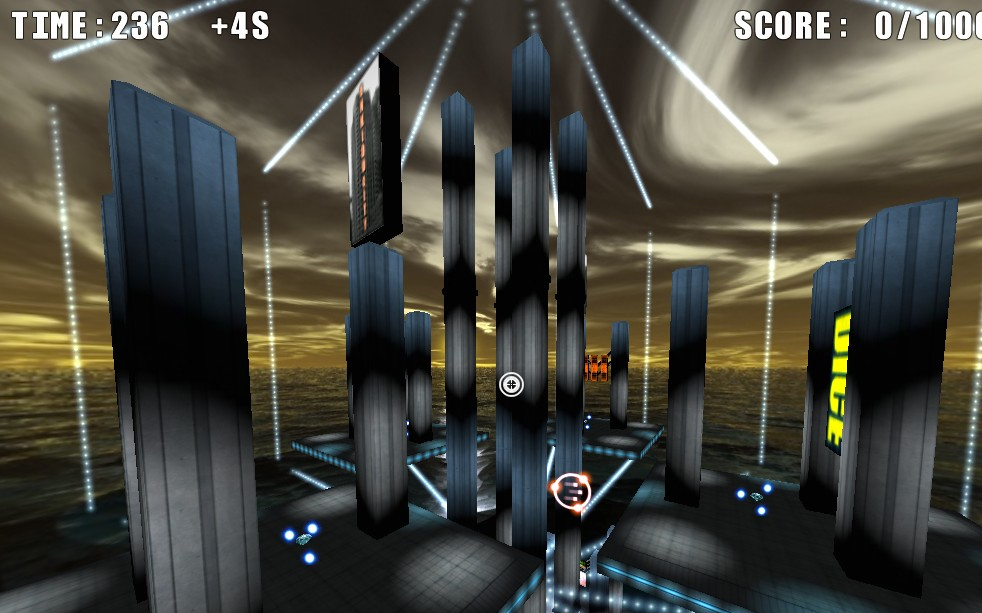 Note the resemblance of the prior shot to this one from Inago Rage... The sexy frog was the Inago Rage, our 10th title, the prince was AAAAA! [Ichiro: Inago's hardly a frog -- it kept Dejobaan in business.] Our magic spell is something we call the "Offshoot Method." Here is the idea: Instead of building every game from scratch, we take an existing game or set of games, build on top of existing IP with a brand new gameplay concept. In the case of AAAAA! we used buildings and existing levels but converted the first person shooter to a BASE jumping game. The Offshoot Method is one approach to competing with the big studios that have multi-billion dollar budgets and armies of artists.
So we built a fun little prototype in 8 hours...so what?!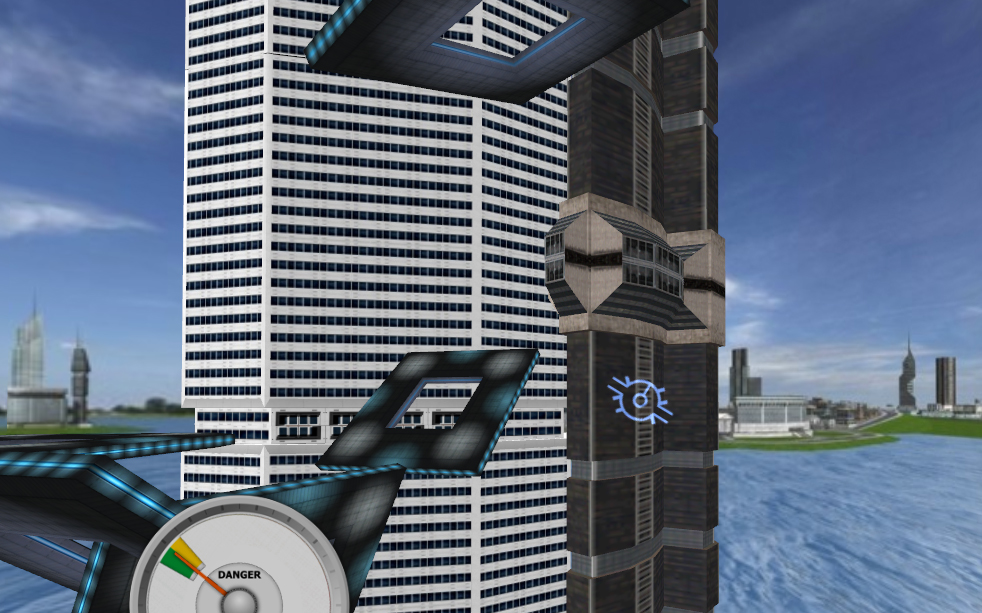 Yes this is the prototype! After we got over our excitement with the game concept and our initial prototype, we realized we would also have to compete with the huge advertising and marketing budgets of the big guys. This is where AAAAA! comes in. We were originally going to call the game "Low Altitude" but how could we possibly get people to notice our game among the hundreds of other industry announcements? Well if there is one thing that grabs people's attention its breaking convention. Ichiro jokingly said let's call it AaaaaAAaaaAAAaaAAAAaAAAAA!!! (pronounced by screaming only the capital A's). He then pointed out that it would be hard to find on Google, possibly annoy people, make people laugh at us, be hard to remember etc... but wait a minute, so essentially it would create controversy? ...and controversy is nothing but free publicity, right? Just ask Paris Hilton!
And with that a star was born - or so we hope.
Here is a collection of quotes from the press:
JoyStiq: "Title of the Year: Dejobaan's AaaaaAAaaaAAAaaAAAAaAAAAA!!! "
Rock,Paper, Shotgun: "If you want to be certain RPS will cover your game, you need a name like Robokill, or AaaaaAAaaaAAAaaAAAAaAAAAA!!! - A Reckless Disregard for Gravity."
Kotaku:"I am never typing that out again."
Comments from gamers on various sites, forums and blogs:
"I have nothing to add to this discussion, but I wanted to type the title myself. AaaaaAAaaaAAAaaAAAAaAAAAA!!!"
"So wait, its AaaaaAAaaaaAAaaAAAAaAAAAA!!! -- A Reckless Disregard for Gravity.
Oh, damn, I think I spelled it wrong!"
"If this turns up on Steam like TWEotW did, I'm pretty sure Dejobaan will be getting more of money faster than I can scream, "AaaaaAAaaaAAAaaAAAAaAAAAA!!! There goes my pay cheque. Again.""
"This sounds awesome, and I love the name. The name which I won't type out. "
And our favorite:
"oh my.....what the hell do I say to the shop if I'm gonna buy this?!?!
Guy at Shop: Hi there! How can I help you?
Me: erm...yes...do you have a game called AaaaaAAaaaAAAaaAAAAaAAAAA!!! ?
Guy:..........excuse me?
Me: a game called AaaaaAAaaaAAAaaAAAAaAAAAA!!! it has one big "A", four little "a"s, two big "A"s, three little "a"s, three big "A"s, two little "a"s, four big "A"s, one little "a", five big "A"s and three exclamation points.
Guy: GTFO!"