Hello friends, welcome to the latest DA developer blog! First of all happy new years! I wish you the best in all of your endeavors for this year.
Now to the mod. As I mentioned in the previous blog, I am planning the first release of this mod for later this month. I have selected Friday, January 29th as our targeted release date. I only hope that all of my prerelease tasks and preparations go smoothly.
So what has changed in terms of development since the last blog? Here is the changelog:
- Philip Augustus has been rebuilt/remastered and will spawn during the Third Crusade for Antioch like Richard spawns for Jerusalem:
- The last Antiochean general has been implemented, the Marshal of the Hospitallers. Like the Hospitaller Grandmaster available to Jerusalem, he is a constantly respawning general that will for the Antioch player respawn at Krak de Chevaliers every time he dies/is killed. He is a good infantry commander and will respawn with an elite unit of Hospitaller knights. If you lose Krak, you will lose access to him.
- Antioch's icons are redone within the game menus and in-game as well.
- Antioch's and Jerusalem's campaign start screens completed: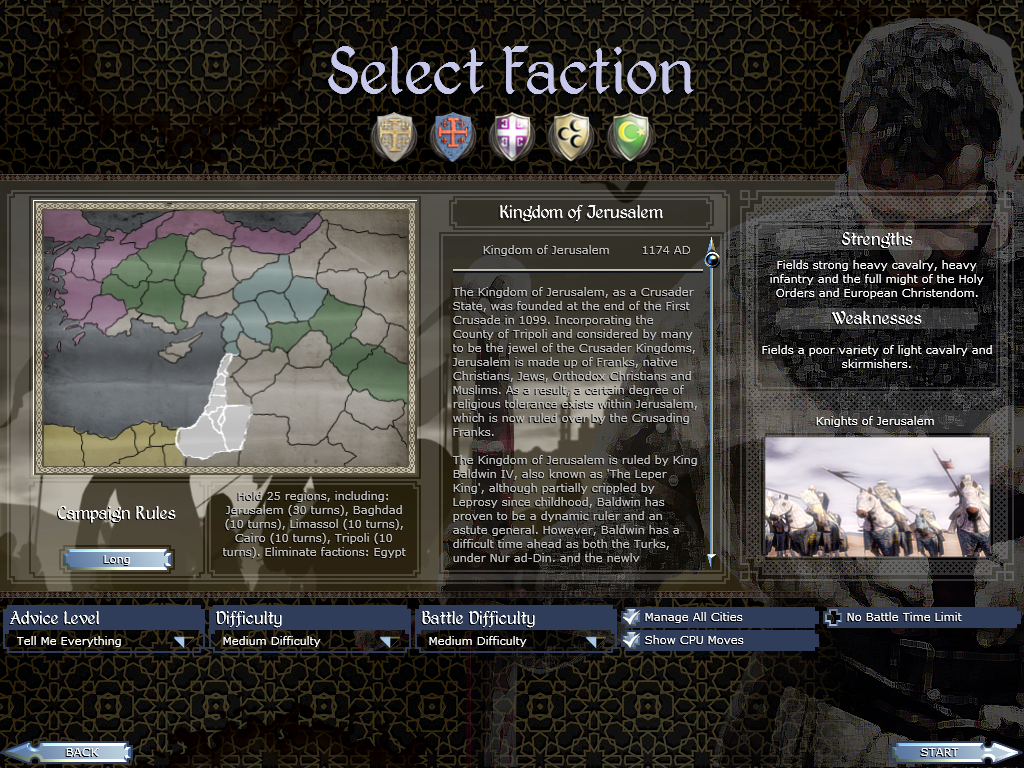 These are the remaining items I am interested in tackling before release:


- Make some mercenaries available in the Levantine and Syrian regions, mainly using existing DA units. I am open to suggestions. I am thinking of four mercenary units for now, Latin Crusader Knights and Spearmen, Turcopoles, and maybe some type of native Arab spearmen (this will have to be a new unit).
- I am rebuilding the battle models for the Turcopoles, as I am still not satisfied with them, trying to finish this in the next day or so.
- Need to reconfigure the blacksmiths; essentially change what benefits they give since they will not be upgrading armors as DAs units do not have different armor tiers. I am leaning towards setting them up like how they work in Broken Crescent: upgrade melee weapons and increase recruitment slots for a settlement. I am open to suggestions here too.
- Redo the artwork for events. There are way too many to do at the moment, but I will do as many as I can.


Stay tuned for more updates as the first release nears.