I'm proud to announce that the development of Glass Knuckle Games' latest project, Defragmented, is finally going public! Defragmented is a third-person cyberpunk action-RPG with a heavy focus on fast-paced gameplay and character progression.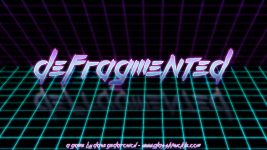 To get a quick idea of where this game is headed, below are the preliminary features that you can expect. More will be added over time, but these are all core to the main gameplay.

- Cyberpunk aesthetic: Explore a dense Sci-Fi future on Earth inspired by some of the greatest cyberpunk media of the past 40 years.
- RPG character progression: Collect experience, level up, unlock new skills and abilities, and grow stronger as you progress.
- Super fast-paced combat: Weapons have real power. A few hits will likely put down either you or the enemy. Death is certain, but you are always able to jump right back in to keep the action rolling.
- Procedural loot: Collect procedurally-generated guns and items. Deck out your character and find the rarest gear available.
- Retro-futuristic soundtrack: Enjoy pulse-pounding synthwave and heavy electronic beats to keep your blood flowing through each hectic level.
Since nobody wants to read just a vague summary of a game, I've included 4 screenshots from the prototype build so far. As with any aspect of game dev, visual quality will improve over time. It should still be easy enough to make out what's going on in each.
The game is already about 3 months in. During that time I developed the entirety of the prototype in Unity. Now that a strong base for the game is complete, it's time to move on to branching out the available features. Although the prototype is very much a playable game, it's nowhere near what I intend the final product to be. I'll be posting logs somewhat regularly so be sure to watch the page for new updates and important news as development progresses.
For those of you who might have recognized us before, we were the creators of Noir Syndrome, Thief Town, Dumble, and many more. We're committed to providing the very best gaming experiences we can possibly make. We've always been very open to user feedback, so shoot us a message or leave a comment any time and we'll be sure to look in to it!
As always, feel free to check us out on our:
Twitter | Facebook | Website | IndieDB Group