Mentat Intel Report [10171.1 A.G.]
Report to CHOAM Interplanetary Commerce and Trade Regulation Board
Stated objective: To determine the method by which Harkonnen Spice mining yields have increased markedly within the last standard cycle and to verify any infractions of strictures governing computerized industrial mechanization imposed by the Bultlerian Jihad. The Harkonnen have been unwilling to disclose the reasons for their heightened productivity, citing rights of competition established under CHOAM operating guidelines.
Results: The following is a partial reconstruction of damaged holo-plans stolen from Harkonnen Spice mining operations on the planet Arrakis, also known as Dune. Speculation as to the purpose of the equipment is broad.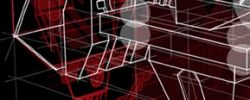 Mentat Assessment: Device appears to be some sort of heavy-lifting aircraft intended to transport Spice Harvesters to and from Spice fields with greater efficiency and speed. Could also have military transport applications. Likely this craft is responsible for increased Harkonnen Spice yields and a decrease in heavy equipment loss due to Sandworm activity in the deeps desert.
Encryption Channel 314159 ~ Authorization sent ...REPORT ENDS...

Mentat Intel Report [10171.2 A.G.]
The Harkonnens have developed a flying Transport unit capable of lifting armor, infantry and even entire Spice Havester mobile factories into the deep desert. Their use of powerful rocket thrusters gives them formidable range, speed and lifting force.
Versatile and durable, these Carryalls are the backbone of Harkonnen economy and mobility on Arrakis. Their multiple potential uses cannot be overlooked.
Encryption Channel 314159 ~ Authorization sent ...REPORT ENDS...

Mentat Intel Report [10171.3 A.G.]
Other new Harkonnen military units have been spotted in use on Arrakis. Assessment has been reconstructed from survivor reports.

The Harkonnen have deployed a potent anti-infantry weapon to the battlefield. The Ripper is very fast vehicle, its single massive bladed wheel doing as much damage to enemy soldiers as the twin rapid-fire chain guns it carries.
Though somewhat fragile in construction it is perfectly adapted to the wide open stretches of the desert sands and should be avoided by ground troops if caught un-protected in the open.
The Harkonnen Skystriker is a dangerous Multiple-Launching Rocket System (MLRS) which can fire rapid volleys of missiles at air and ground targets. The size of its payload and it's range make it especially deadly in large numbers.
It is not designed for close-combat, however, and can be overwhelmed if other units get too close to it.

Encryption Channel 314159 ~ Authorization sent ...REPORT ENDS...

We hope you've enjoyed this sneak peek into the development of Dune: War of the Spice. You can follow us on Twitter, subscripe our RSS-feed and join our forums. We aim to post regular monthly updates as we have new work to show.
Dune: War of the Spice is a new fully original Real Time Strategy game loosely based on the Dune novels of Frank Herbert and following in the footsteps of such games as Emperor: Battle for Dune and Dune II: Building of a Dynasty. The game follows the exploits and conflict between the three Great Houses of the Atreides, Harkonnen and Ordos in their fierce battle for power and control of the Imperium, as well as a number of Subhouses that try to use the conflict to their own advantage.
We've been concentrating on the Harkonnen faction for the time being and hope to add new art for the others as our output increases, we're always on the look-out for talented 2D and 3D artists to contribute. For information on joining the project please click the Jobs Link to the left.