First of all, thanks to everyone who voted for us in this year's ModDB Mod of the Year Awards. We are in the TOP100 mods for the 3rd time in a row and 4th time in total, for which we are very thankful as it shows how dedicated our fans are and that our work is in fact appreciated. We'll continue to extend Red Alert 2 Yuri's Revenge lifespan with this little project of ours, hoping that you'll enjoy it when we finally release Mental Omega APYR 3.0. Two pictures with new units were made as MOTY promos.
Unfortunately, 2012 was not the year of 3.0 despite my best intentions to make it such. The reasons for this are simple: the mod was not complete this year and the requirements for a release have not been met yet. I've made certain decisions regarding the first release of 3.0 but it all depends on factors I have no control over. Development of Ares DLL is one of them, so if you're a YR modder and haven't supported/tested this great DLL yet, what the hell have you been doing all this time? Fear not, Mental Omega APYR 3.0 is very far in development and will definitely be released as soon as it is possible. Yuri's almost perfect revenge will happen.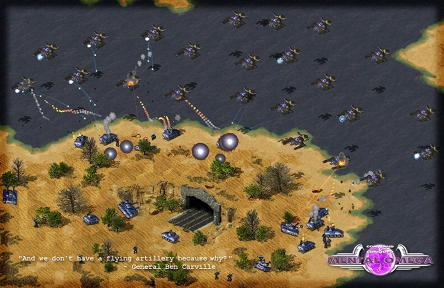 The voice over stage of our project is turning out to be a great success. Out of 61 new units, we've managed to collect 48 recorded sets for them. The following is the second sample set of new voiceovers. You can still find the list of lines for "unvoiced" units here, so if you're interested in voicing one of the units for Mental Omega APYR 3.0, give it a go. E-mail: mental.omega.apyr@gmail.com
The new infantry unit shown in the Voice-over Showcase #2 is the Cyborg Prototype and is one of the new stolen tech infantry available for the Soviets after they infiltrate one of the enemy Soviet laboratories, be it Russian, Chinese or Latin Confederation's. The unit is supposed to mimick Renegade 2's Cyborg concept but you can see obvious connections to another unit from the C&C saga as well.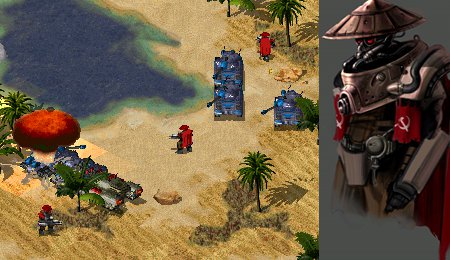 Did you notice that map lighting never affects the objects as far as shades of red, green and blue are concerned? I found a little workaround for this with 'Retint XXX' type triggers, but there are still some issues that have to be solved. It's either this, or fixing the map lighting completely, so all my hope is in Ares now, since the results are really nice.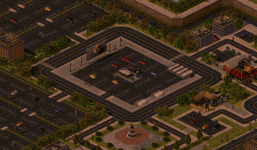 Epsilon Structures are up. Also, the Soviet Units page has been updated with a profile for the Soviet-vs-Soviet stolen tech unit: the Apocalypse Tank. This behemoth of a tank makes a return in Mental Omega APYR 3.0 with more firepower than ever.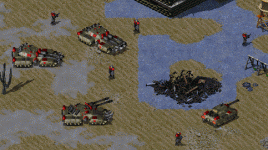 We'll be doing tutorial missions for 3.0, we've also restored and updated the original two boot camp missions from Red Alert 2. You can also take a look at a preview of another new mission created by RP and lovalmidas, Soviet this time.
A new wallpaper has been added to the Media section. I totally have to make myself a shirt with this! Here's a poster version.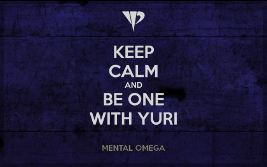 Here's another blueprint for the installer! This time, featuring me Speeder Trike. Model of the Trike was created by SecondWtq, art by Banderi.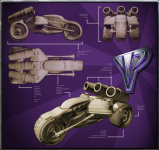 That's all for this year. Best wishes for New Year 2013! Stay tuned!