In zombie city, there is mostly death people, but there can be som survivors.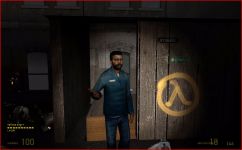 A survivor from zc, better and more detailed pictures will be added later.
I have maked Faceposer for this guy, but i got some problems. Hope some of you modders outthere can help me. Im making it correct in hammer editor, but when i runs the mod, he just stands and doing stuff with hes hands, that also what i want him to do. But... there is no sound, he's mouth are moving, and i have all the sound files in the mod folder, so please help me:)
The Future.
Im telling what to be in the mod.
I'll maybe change the name of the mod. becaus only 1 or 2 chapters is in the city.
Chapters:
1: In the city.
2: In some old bunker like underground roads...
3: In a warehouse looking for a teleporter.
4: Tele porter fails and you lands in th......
I won't say more:)