After a week or two of pain-staking hard work (STAKING, haha, get it?), the site is FINALLY done! That being said, head over to www.donmod.com and see the final product!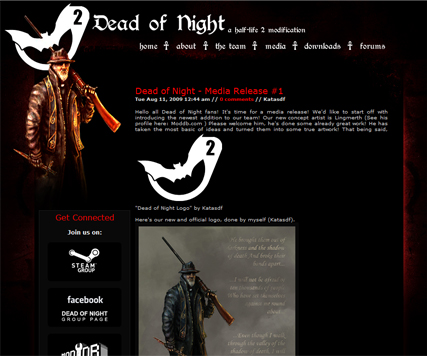 The site is beneficial, as it offers multiple ways to stay connected to the mod. Such as:
- Our ModDB Page (you're currently on it)
- Our Facebook Page (facebook.com)
- Our Steam Group (Steamcommunity.com)
- Our Forums (Donmod.com)
- Our Twitter Account (Twitter.com)
In addition, we recommend anyone who supports the mod to sign up to the forums and join in on any discussion. We have room for suggestions on just about anything. The more input you give us, the more we can apply to the final product.
We're looking to keep all of our updates and information centered around the site and forums, but will continue to post news here on ModDB.
---
On the flip side, a lot of programming has been going on lately. FeareD has been working hard since he first joined the team. We've currently implemented:
- Round-based game play
- All classes and weapon (placeholders)
- Vampire High Jump
- Vampire Long Jump
- The first Vampire special ability (not yet to be announced)
---
You can look forward to a 'secretive' news post within the next week. Let us give you a hint, it's a behind the scenes video and it involves fruit! We'll leave the rest up to your imagination :)
That's about all for now! Continue to keep watch for more Dead of Night updates.
Until next time!
- Dead of Night Team