It has been almost a month since the inception of this mod. I started with nothing but a good idea, and some experience modeling. Since then though this mod has blown up, you guys seem to love Mass Effect. Its a good thing, keeps me motivated and moving. That brings me to my main point, for the sake of focusing i have worked tirelessly on the Citadel Council. I want to get an alpha out as soon as possible to reward you folks for your constant support, but to my work. The pictures below are of the Citadel Council Fleet and its Stations.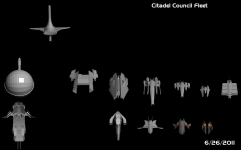 The Citadel Council Fleet
Comprised of ships that are seen in Biowares Mass Effect 1 & 2, and Ships based off of Concept art released by Bioware, and also a few i came up with myself.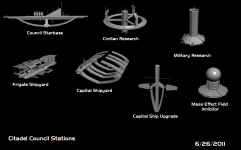 The Citadel Council Stations
Stations within The Citadel Council are from all races within in it. Salarian research as well as Asari civilian research. Turian shipyards and Systems Alliance Starbases. All of which come together quite nicely.
If you are interested in helping out or just following it Check out Mass Effect: Dawn of the Reapers a Total Conversion mod for Sins of a Solar Empire.