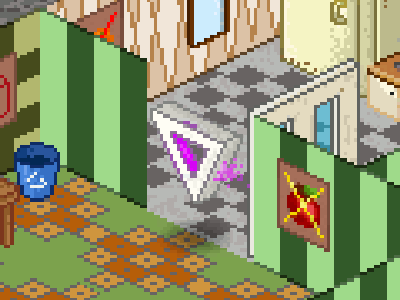 Now showing: three new enemies for our game! Drones, hovering robotic machines that patrol the cities, preventing Patchman from not being Patchman, keeping the Sheeple standing in front of Repeaters to have their spirits sucked out of them. You know, for energy! Did you not notice those battery-like Chargers in the background connected to in-ground tubes? Now you know what they are for...
Seeing as how this is a stealth game, you should probably avoid those drones whenever possible. Stay out of sight, one wrong move could spell death, unless you can run and hide and find cover before they rout you out. Seriously, their AI is no joke. Don't tease them.
But more mysteries remain...
Can Patchman damage or disable the drones?
Where did the drones come from?
What is their ultimate goal?
And how does Patchman fit into all this?
Stay tuned for answers to these questions.
In our next major update, the trailer is coming out and will tie up everything you've seen before into one neat easy-to-digest package - convenient, as if it had plopped out of a vending machine. So get your volume knobs ready to crank up to eleven, because we also have an amazing tune to accompany it, by a very talented artist who is sort-of-undiscovered but makes killer video-gamey electronic music.
Following up this week is another installment of my development diary: "Behind the Drones". The footage you've seen here and before is not final game footage, we are still in alpha stage and have hopes to improve, polish, and finish the game if the fickle crowdfunding swarms bestow pledges upon us. Considering our video views are hovering in the 250 range, things do not look promising, since we'll need ten times that number of pledges to go forward *gulp*. The noose is closing around my neck. Our trailer and everything else we've done will just have to speak for itself.
Please subscribe, follow, like, and share!
Props to IndieDB for giving us lone devs a chance!