FOOD AND DRINK MECHANIC
This week I've been implementing the food and drink mechanic, they're represented with bars, so it's easy to figure out your health, hunger, and thirst.The food and drink mechanic would work as you'd think, without food and drink in a long time you'll eventually die.However food and drink are found throughout the map, and aren't the hardest things to find either.I've added a really cool mechanic, called "Paranoia", read more about it below.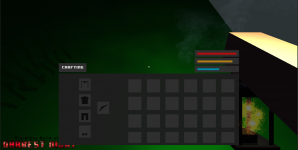 EVENTS, PARANOIA
A survival game without events can easily become a running simulator. To counter this problem, the player always have to keep his mind on his own mission and state. I decided to add events in to the game. The only event right now is paranoia.When close to dying, you will get hallucinations and get paranoid, you'll start hearing monsters growling and hissing behind you. This mechanic will increase the horror in the game, and it's great and scary. To counter having low health, find a shelter for the night, or grab yourself a bite or drink.Having paranoia, gives players with low health a disadvantage compared to players with higher health and better equipment. This'll give players more a "need" to find better loot and surviving.I will make sure the events doesn't ruin the game immersion, and I'll keep them as a horror element.
BUILDING/CRAFTING
Crafting and building gives the game more longevity.The first step into crafting/building is the small tent I've added into the game.The tent includes a bed, which you can sleep in, and the tent is craftable and placeable in any environment. When sleeping, you'll regenerate a certain percentage of your health, but you can't sleep if you're not tired.This means, you can't exploit the sleep mechanic to quickly gain all your health back. This means, you can't exploit the sleep mechanic to quickly gain all your health back.
CHARACTER/WEAPON IMPROVEMENTS
As always tweaking/remaking assets is incredibly important for your game's progress.Below here is the new remade character, having more polys than the last one, but still has the low-poly look. The new character is customizable, and does match the game more than the old model.This week I've also added a Springfield Rifle to the game, with shoot/reload animations.Items added this far to the game
Springfield Rifle

LeMat Revolver

Henry Rifle

Lantern