Dark Signs is once again available to play, Dark Signs is an online multiplayer hacking simulation game where you participate on a virtual Internet that is created and sustained by it's players.
for a few months earlier this year, the server, and the website were shut down, and the game was unable to be played, the server is now available again, but the website, and forums are still down, and the chances of an update are low, as the creator of the game has moved on to other projects.
however, with the unique player driven world, there will be a constant stream of new content, and missions, so even though there may not be any updates, there will never be a shortage of content.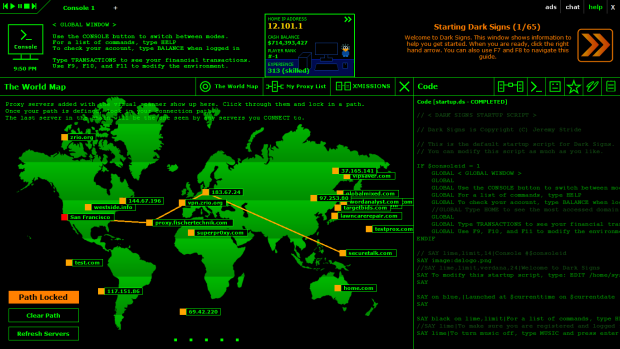 What gives Dark Signs it's power is the flexible in-game scripting language. Players can craft their own tools to interact with the environment. Commonly scripted tools include hack scripts and scanning tools. The world of Dark Signs is changing constantly as players interact with servers in the game. Dark Signs features both player user created missions, as well as server generated missions for additional gameplay. Players can register their own domain names and upload files, which can then be seen by everyone else in the game. Buy and sell tools in the DarkStore, root servers, crack passwords, and break through firewalls. Inside Dark Signs you will find an almost endless number of commands and functions that can be used to create almost anything.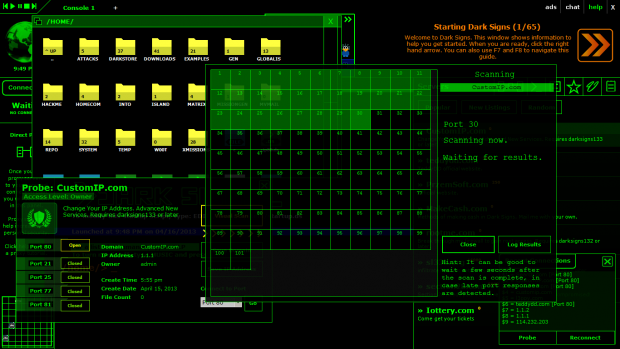 Enjoy the game, I wish you the best of luck in your hacking endeavors, and hope that you never make someone more skilled than yourself angry.
below I have included links to the game's Steam group, and the download page for the Client.