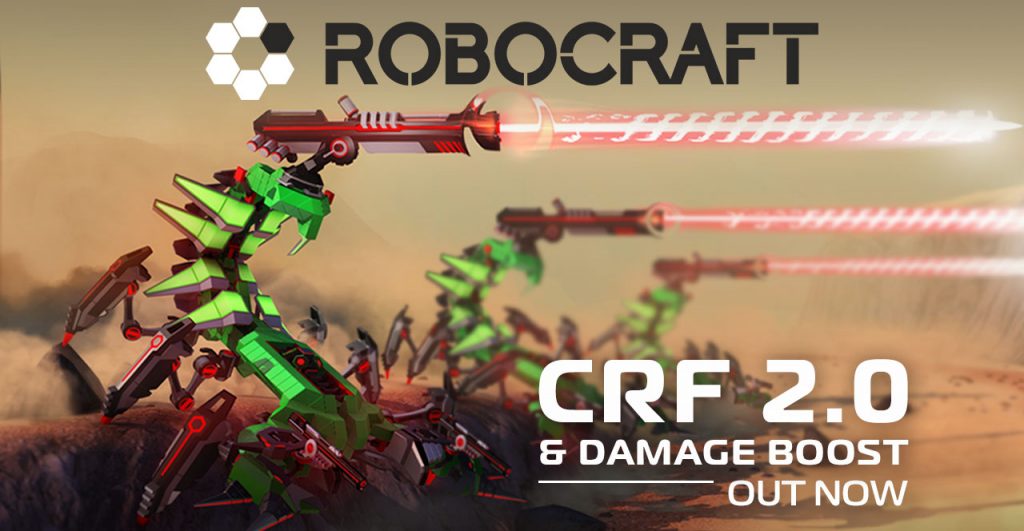 Our latest double-hitter of an update is now live! It's a massive beast of an update that includes the addition of a new Damage Boost mechanic designed to give all players regardless of their Robot's CPU, the same weapon energy, as well as some pretty major changes to the Community Robot Factory (CRF) that include a new 'mastery' system and also brand new functionality such as the much-requested 'Copy Robot' feature. Oh, there's an exciting new weapon too - the Rail Impaler! We've also giving you more room on the battlefield with a 20% upscale to the maps; I honestly don't know how we squeezed it all in. As usual, we've addressed some balance issues (based on your feedback) and squished a whole raft of bugs too.
NEW:
All players regardless of Robot CPU now have the same amount of weapon energy in battle (based on player feedback this has been increased from our original announcement). The amount of weapon energy available to players will be 12,550 (the same amount for a 1,600 CPU Robot)
Damage Boost System - Similar to how both Health Boost and Speed Boost systems work, we have now introduced a new Damage Boost system. This will provide an additive Damage Boost applied as a % to all your weapons (much like the buff you get when a player leaves on your team). The Damage Boost % will be highest at low CPU ranges and lowest at high CPU ranges (see image below)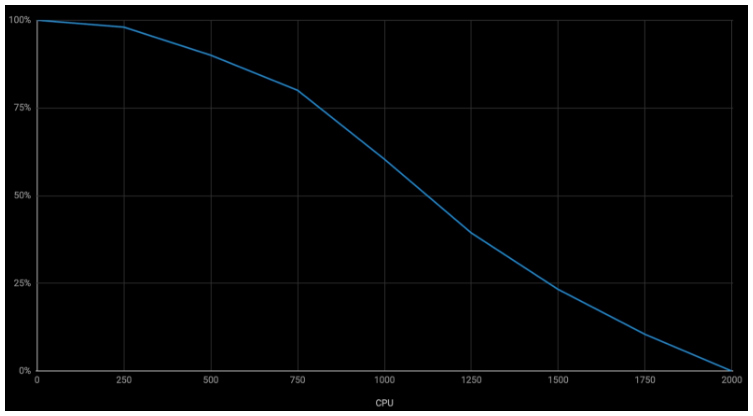 Damage Boost % displayed in Robot stat panel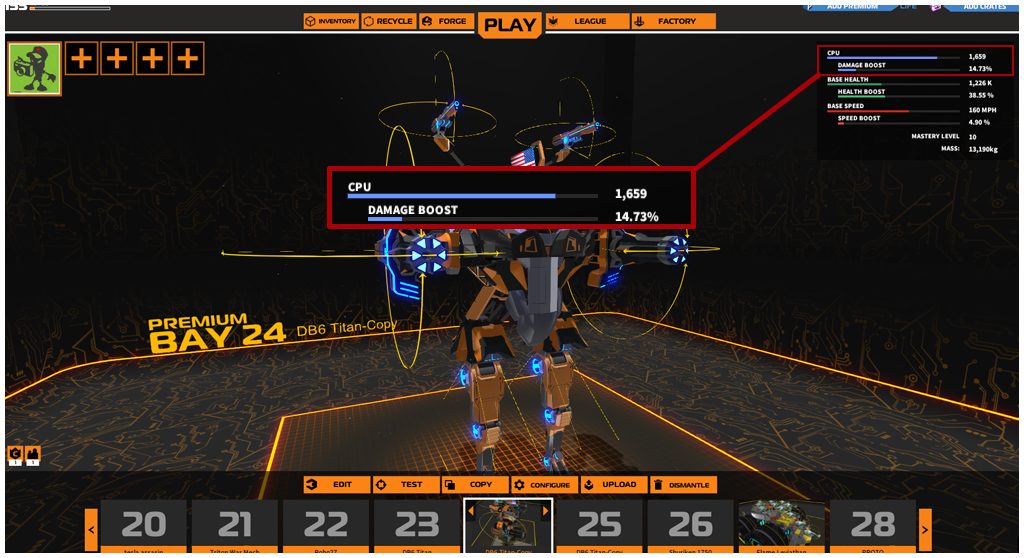 Copy Robot - One of the most requested features for Robocraft is here: the ability to copy your Robots. With a single-click players can make a copy of their Robots without requiring additional parts.
Copied Robots are displayed in green garage bays
A copied Robot can be freely played in any applicable game mode
A copied Robot will not require additional parts however it cannot be edited initially
To edit a copied Robot, players must construct it - this will use existing parts or Robits to forge any missing parts
Copied and then constructed Robots can be uploaded to the CRF (this does not apply to Robots downloaded from the CRF and copied/constructed)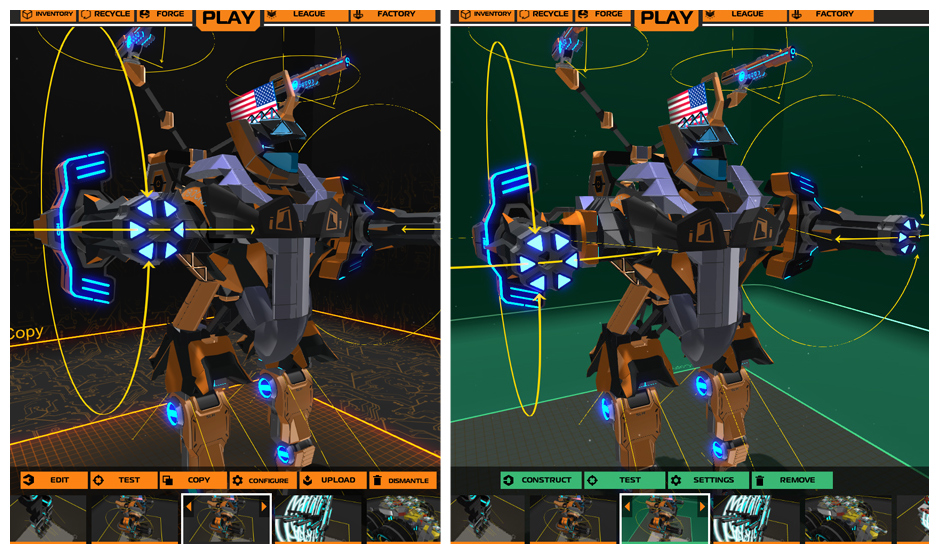 CRF 2.0 - You can now 'get' a copy of another player's Robot from the Community Robot Factory (CRF) for free as long as you have the parts in your account (whether in your inventory or on another Robot).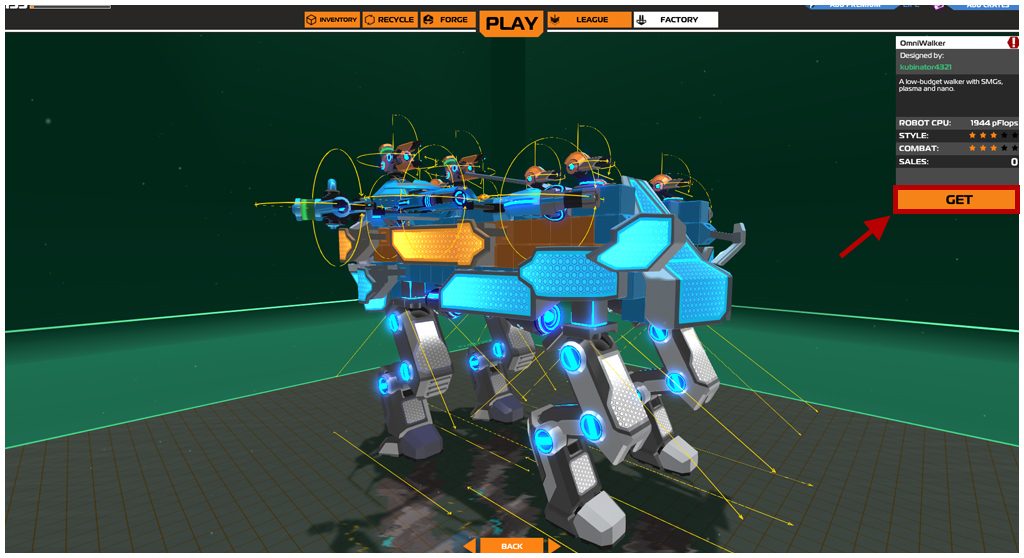 If you want to get a Robot from the CRF and you don't have all the parts, any missing parts will need to be forged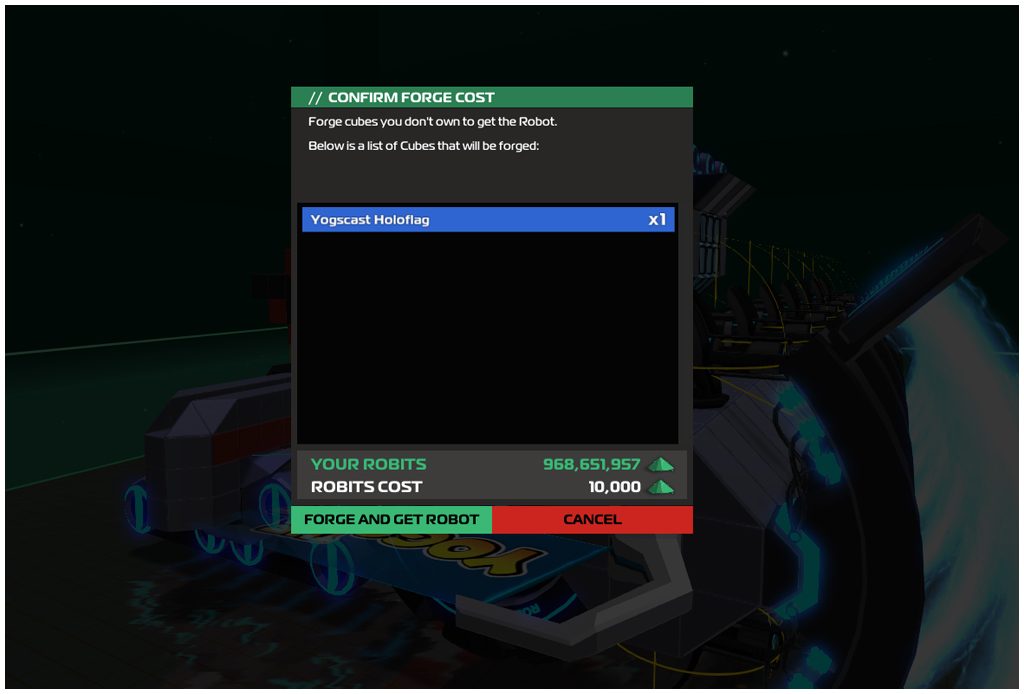 Any Robots obtained from the CRF whether for free or for a cost can be played in any applicable game mode but cannot be edited without being constructed
Constructed Robots will use existing inventory parts and/or Robits to forge any missing parts
Robots downloaded from the CRF will appear in green garage bays until they are constructed as editable robots
Copies of downloaded Robots from the CRF cannot be uploaded to the CRF
CRF search results will now show Robots you have existing parts for before Robots that require some additional parts that need to be forged
CRF Mastery System - Those of you who have spent any amount of time in edit mode will know that building Robots takes time, sometimes a lot of time, and downloading Robots from the CRF doesn't. So, we want to ensure that builders receive a reward - and that's where the new Mastery System comes into play. Please note that the Mastery System rewards do not apply to Custom Games battles - will be be offering Custom Games Rewards in a future update.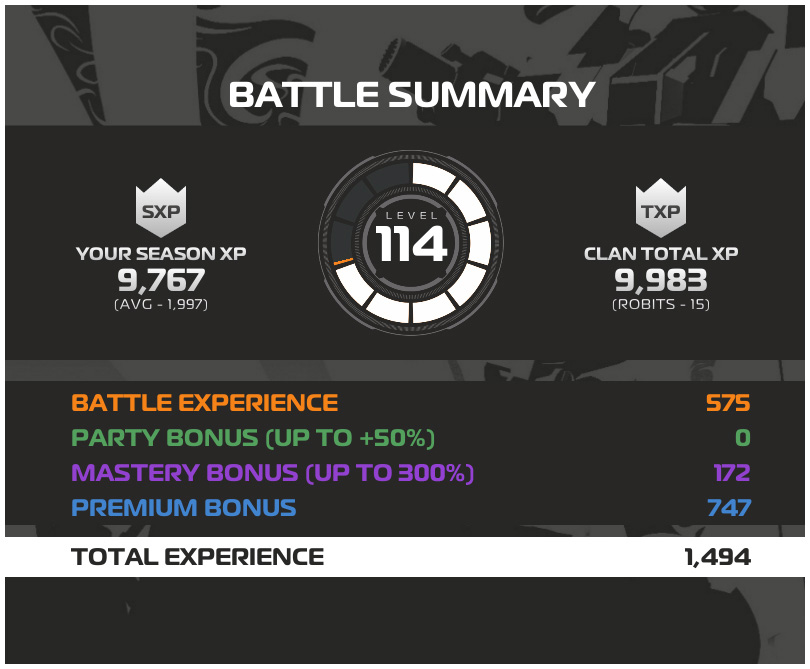 Each Robot has a Mastery stat which starts at Level 1 and increases to Level 10
The Mastery of a Robot increases by one Level each time you complete a full battle
Each Mastery level gives you 30% extra XP when you play with that Robot
Robots built from scratch start with the maximum Mastery Level 10
Robots downloaded from the CRF start with Mastery Level 1
Robots that are copied in your Garage copy their Mastery Level from the copied Robot
A Robot's mastery level is displayed in the Robot stat panel
To compensate for the massive Mastery XP bonus, we have reduced the League XP bonus from x2 to x1.25
Experience required to level up has been scaled up to accommodate the Mastery System
To keep robit rewards at the end of season around the same, the Clan Season XP/Robits rewards conversion reduced from 0.0033 to 0.0015
CRF Rewards - With the changes to how players use the CRF, we are also changing the way in which we reward builders who upload their Robots to the CRF. Currently, many players use parts from their inventory to obtain Robots from the CRF and as builders are rewarded with 25% of any Robits spent purchasing a robot, many builders aren't rewarded for their efforts. Instead we want to change it so that every time someone adds a Mastery Level to a Robot downloaded from the CRF, the original creator will get rewarded.
Each Mastery Level gained will reward the original creator 1500 Robits (increased from our originally planned 500 Robits)
A Robot creator remains the creator even when a Robot is copied, constructed and edited
NEW Weapon - Rail Impaler
Rarity - Legendary
Cost - 130,000 Robits
CPU Load - 260 pFlops
Base Health - 67080
Mass - 1040.0kg
Damage - 154537 per hit
Energy Consumption - 6000 per shot
Single Gun Fire Rate - 0.5 per second
Max Fire Rate - 1.0 per second
Max Fire Rate Count - 2 guns
NEW Custom Games Options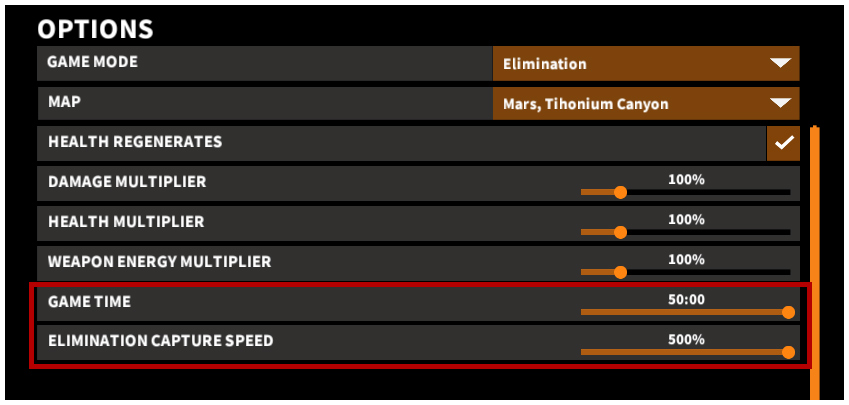 Elimination Mode base capture speed multiplier (from 10% to 500%)
Set game length (from 1 min to 50 mins)
Available Custom Game options will now show/hide depending on game mode selected
---
IMPROVEMENTS:
Maps scaled up by 20% - more room for flying and more room for fighting
Removal of the Weapon Energy to CPU relationship to allow for the new Damage Boost System
Hover Robots added to Play vs AI Mode
Removed the "potential change" messaging from all in-game user-interface bars
Weapon Energy Module fully replenishes energy upon activation
---
BALANCE CHANGES:
All Thrusters and Propellers have had their speed boost increased 1.5 times
All Plasma Cannons, Rails and Aeroflaks had their damage reduced by 10%
Laser Leviathan damage increased from 26,330 to 29,429
Nano mechanics have changed: if 2 or more Robots heal a teammate at the same time, the heal will be applied only from the Robot who started healing first
Aeroflak mechanic has been changed and can no longer be used while the Robot is in air
Rotors have had their agility/acceleration massively increased
Reduced the speed at which Wings and Rudders bank from side to side to remove the feeling of weightlessness
Nominal count is now 4 for all non-Legendary Laser, Plasma, Rail and Nano Weapons
Nominal count is now 2 for all Tesla Weapons
---
BUG FIXES:
Fixed an exploit that allows you to get unrealistic levels of speed by driving aircraft in circles
Fixed an issue with pixelated game mode images when using lower quality settings
Fixed a visual layering issue between the chat window, Robot Info panel and the 'rate this robot' pop-up when using a low resolution
Extended the background box on the Battle Summary screen
Fixed alignment issues with weapon descriptions in German language
Fixed an audio bug which resulted in the aerofoil sound continuing to play after a player's Robot had been destroyed
Fixed a bug which prevented some flying Robots from diving down if they flew too high
Fixed a bug which displayed the wrong messaging when the BRAWL mode is locked. It should read "Game Mode is currently locked"
Fixed a visual bug which displayed a clan invitation as being 'greyed out' and unavailable (even though it could still be clicked on and accepted/rejected)
Fixed a collision bug which detected connection points where there were none on the following:

Blink Module
Tesla Weapons
Hover Tempest
Insect Leg Soldier
Mega Plasma
Wing Falcon