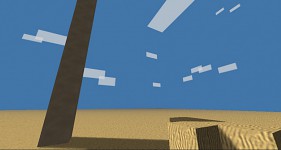 Fixes:
Bugfix: "Dedicated server wont save builderlist setting ON. It is always off when I Start the server or restart it. I have to enter the server and manually set Builderlist ON, it stays on until I close the server."
Game download progress displayed at the load screen.
Future fix for in case a saved level has higher block type count than the new texture pack has. It'll default to the last block of the pack.
Fixed a bug where some cubes were not selectable until you moved (had to do with physics on blocks)
Sun flare will not shine trough blocks anymore
Added mild view bobbing
Compressing file transfers (Custom skybox/terrain). Dedicated servers with skybox/texture customizations take a few seconds longer to load, but this saves everyones bandwidth a bit later on.
3D gaming
Did you know we fully support 3D gaming via NVidia 3D vision? (Windows only) Because of the simplistic shapes the 3D effect is very convincing! More information: Nvidia.com
Invert mouse buttons
You can now swap the left&right mouse button functions in the options screen
Skybox customization
The skybox can now be customized! See the forums tutorials section for more information about texture/skybox customization. I have updated the ExampleMods.zip file with 2 skyboxes, 2 customt exture packs, and all images of the default cubelands texture pack. Download it now to get started! I look forward to some nice community made texture packs!
By the way, feel free to use the forum to discuss your own Cubelands customizations and servers!