Well,
I've been working on the fortress interiors and especially the sewer system underneath it! The main goal for this week will be the fortress sewer systems, which contains quite a few secrets and bonuses though its quite small!
The latest media update was one of the small interiors that I've created as well during these past few days, its just a small shack but a great inspiration source for the other interiors left!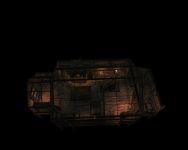 I'll try to update the moddb page with news every day, as well with new media!
/Flockheed