Trailer
To kick things off, here is our first official trailer for our greenlight campaign (see below), narrated by the awesome Peter Batchelor. It was quite a trip to this stage, but it was worth it, when some of you like it.
With Cuit, it always was my intention to provide a relaxing but super challenging gaming-experience. Inspired by the game Hook, the visual style was kept minimalistic and clean. Cuit got completely rid of all technical aspects of real circuits, and only focusses on the pure logical components of it, which can make levels evolve into incredible difficult and mind-boggling riddles, while looking like a piece of cake. Even more minimalistic than the looks, however, are the user-interactions. And in some way, I think, that's what makes Cuit unique. There are literally - 2 buttons. Well, 2 kinds of buttons, leave aside some special gates like a three-layer-maze, which is no common element of most levels. So, those two elements are Output-Switches, and On-Off-Switches. The unbelievable part is, how complex interactions can become, through the logical gates, even with just those two types of buttons. With Flip-Flops, memory's, flip-switches... If you like challenging your mind, and think you are good at logical thinking - or want to test it... I think Cuit is the right game for you.
Dev-Blog: Adding memory to the game, aka: Sevenfold the interactivity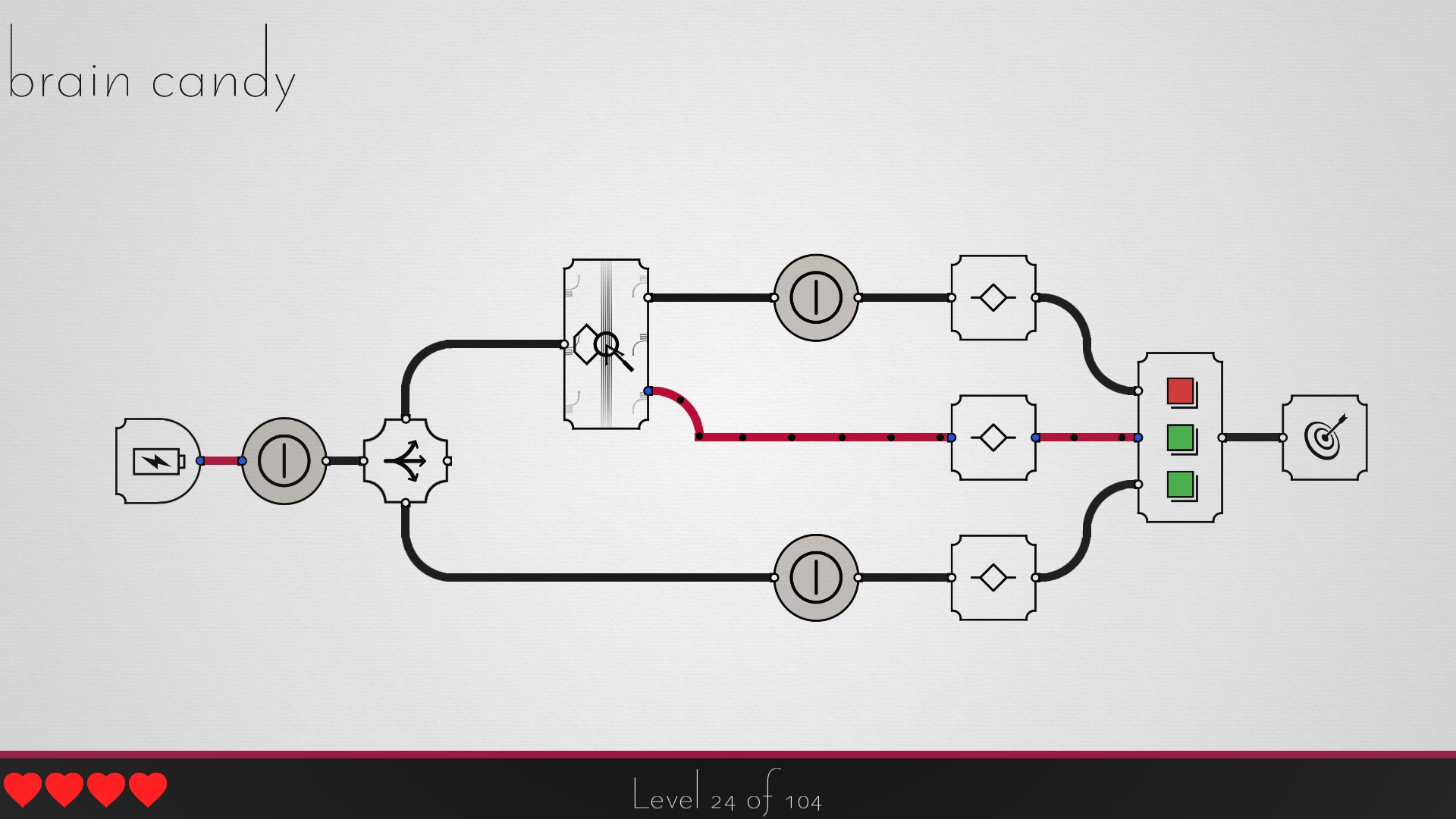 [Side-note: I will start a new series, where I talk about the details of the game and some gates, and the logic and depth behind them. This is the beginning, however, the next article will be more complex and feature the basics of the game too, so stick around if you would like to read those and discuss them with us]
I am pretty proud of this level. Does it look hard? Not really. But it has some interesting aspects to it. The three identical gates on the middle right. Those are flip-flops, and they work like light-switches. Each time you activate them (the current switches from off to on), the output switches from on to off. And this gives a nice depth to user-interactions, since pressing a button no longer always does the same thing. Each Flip Flop doubles the possible states of a level, so with 3 inputs, and 3 flip flops, we made the player from having 3 input-decisions, to having over 20, depending on how those gates are connected. Another similar gate is the memory-gate, which is pretty easy to understand. At the beginning, the output of every memory-gate is off. But power the input of a memory-gate once, and it's output will stay powered forever, even if the input gets turned off again. This adds the element of order to the game, because maybe you don't want a certain gate to fire, so you should avoid the memory-gate until it is okay to activate it, in respect of solving the level, without blowing up.
Steam Greenlight
Yes! Big news: Cuit entered Steam Greenlight. A 'funny' story: Literally 20 minutes after I paid the Steam-Greenlight fees, I read an article about steam closing Greenlight. Yep. And so I "hurried" to get the game into the Greenlight process as soon as possible. Luckily, it was mostly finished already, but boy, that weekend was intense. Anyway: It is here! After finally finishing the setup of the web page, we published the campaign. Of course we picked the one shitty domain-provider out of 300 who wouldn't let us change the name-servers, so we spend a good 24 hours alone managing those issues, but in the end, it all worked out.
If you would like to check out the Greenlight campaign and leave your feedback, that would be highly appreciated. Click on the image below to open the campaign in a new window.
Web page
As I already mentioned in the Greenlight-part, our new website launched simultaneously. You can check it out under www.cir-cuit.com, which also might gives you a hint on the origin of the name "Cuit". ;)
As of now, the web page features a newsletter-subscription form, details about the game, and a Press-Kit, however, stay tuned for an inbuilt forum. Also, custom levels will be able to be uploaded and downloaded there, as well as rating them. Sign up to the newsletter to be kept up to date.
All the best,
Sebastian