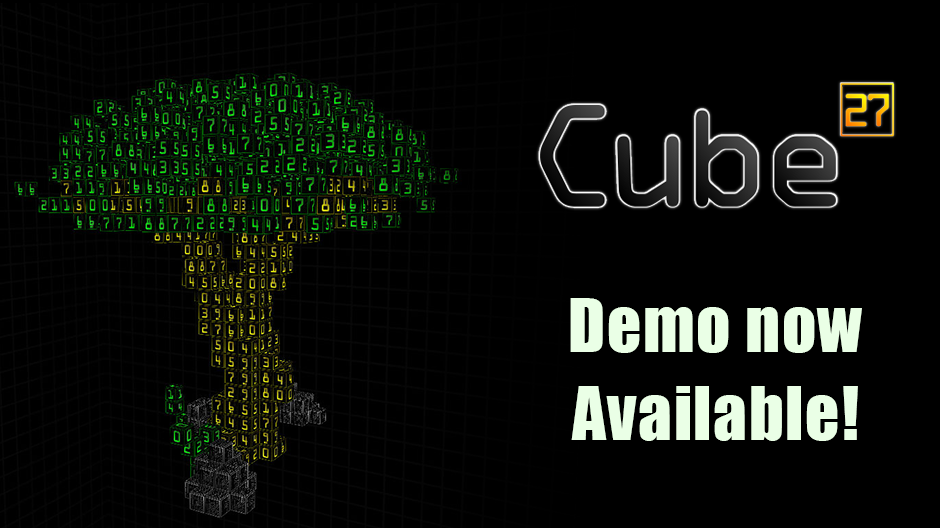 The Cube27 Demo for Windows is now available! You can pick up your copy at the KnightForged Studios Website today.
Cube27 is a fast paced puzzle game where the player is tasked with matching cubes as quickly as possible. Sound easy? Well when you throw in a timer counting down, glitches that prevent you from clicking on a cube, and a virus determined to consume the cubes before you do, things can get a bit more complicated. Can you complete the puzzle before time runs out?
In the Demo players will be able to experience the first 10 puzzles of the game and the puzzles increase in difficulty very quickly. In the 10 puzzles that players will get to play they will experience the glitch and what we call a rock solid puzzle. Rock Solid puzzles are comprised mostly of solid cubes that players cannot click on or through. The only way through these cubes is by using one of the powerups provided. A glitch is a cube that affects the cubes around it. It will temporarily disable the cubes preventing them from being clicked on. There are several ways to get past them but to make things a bit more fun we will let you guys figure out how.
Players will also have the option to switch the difficulty of the puzzles between easy and medium. As the difficulty increases on a puzzle the less time you will have to complete the puzzle and the more difficult it is to charge the powerup bar.

The Cube27 Demo can be downloaded from the KnightForged Studios website or you can follow the direct link here. With the release of the Cube27 demo we are also excited to announce that we will be releasing the full game for purchase here soon. We are still working out some of the details of our release, but the game is complete and ready to go. Like and Follow us on Twitter and Facebook to get the latest information on Cube27!