Hello from the depths of crunch!
Ian, Matt and Robin have been slaving away trying to reorganise stuff with our new UI elements, fixing a bunch of bugs, doing riveting things like mouseover behaviours, selection and deselection, resizing and scaling.
This is the least glamourous part of game development by a long way: the slog to make something actually playable; the desperate swimming through hours of nonsense to try and present your game properly.
I'm pleased to say that we're making progress and the list is dwindling. I'll bring you more updates on that as we go.
Matt has fixed a REALLY annoying animation bug which made the snipers look like they had a very nasty spinal problem, so the new anims are properly in now. I'd like to get a video out soon, but I want to get some bugs around the weapon FX fixed before I do that.
That reminds me, he's also been working further on those new weapon FX I showed you recently - they're really making the game look a lot better.
Ian added something which I really like: some small "teletype" style text zooms in after a kill to break down exactly what happened (who had better cover, who saw whom first etc.) Once we make this look good it will be awesome.
Here's a big screengrab just taken of what I had open: there is so much random stuff on the screen, including a half-finished menu bar on the left - I think it illustrates the insanity of this period fairly well: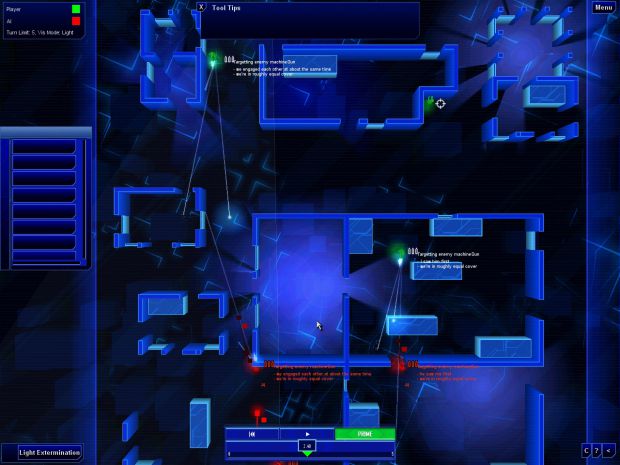 You can see on there that we've simplified the time controls, added UI elements to show who you and your opponents are, made a bunch of the other icons smaller and tucked them out of the way...
I almost forgot tool tips! Another desperately unsexy feature but one which will ease the path of new players into the game a lot more: every order and button has a tool-tip to explain how to use it.
Our new front-end is also almost ready - we still need to do backgrounds for the menus, tidy them up and sort out which UI element is being used for which thing, but that's all on-hold until we get the in-game stuff sorted.
Yes, we truly are incredibly busy.
I'm kind of liveblogging the process on the increasingly weird Facebook page - people are joining every day - you should too.
Thanks for your support - it's keeping us going through this madness. More soon.


(This button will take you straight to our IRC chat room where you can talk live with the developers of Frozen Synapse!)

(Please track our updates! We try to make each one as amusing and informative as possible. Remember, don't click this button if you are already tracking - it will make you stop tracking! This is the opposite of what we want!)


(If you join our mailing list, we will use it only to send you important Frozen Synapse and Mode 7 Games updates. These will be very infrequent and guaranteed to be interesting! We will never, ever give or sell your precious juicy email to any naughty people - promise).