Greetings!
IndieGogo
---
IT IS TIME!
We are very glad to announce that the much awaited crowdfunding campaign of CrossCode has finally been launched on Indiegogo. Go check it out:
Also check out this new and awesome Trailer:
You'll find all the relevant information about the project and means to contribute and support us on the page. We hope that you'll find the project and also the perks well worth your money. Of course we'd be open to further suggestions for perks to add as the campaign goes on, if you got more ideas.
New Demo
---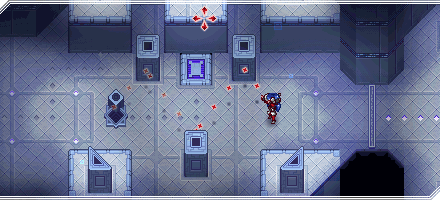 The demo version is mostly the same, but it's a lot more polished, especially the Exploration Mode. The Puzzle Mode has also been mostly reworked and expanded. Here is a list of some of the major changes:
2 new tracks added for the puzzle mode and the exploration area. Also all tracks have been slightly remixed.
The puzzle mode is now much larger and features 5 new rooms, a new layout and a completely new boss! be prepared for an old friend!
You can now use items! Buy or find items in the exploration area and use them via the new quick menu!
Rebalanced enemies in the exploration area to make it easier to level up. Also added a small quest to give you better equipment much sooner.
Added a change log interface that will tell you exactly what happened in each version.
For the duration of the crowd-funding, CrossCode also has a new widget in the title screen with the current funding stats
A lot of more fixes and changes!
So go check out this new version and tell us what you think! Also consider sharing the IndieGogo campaign with your family and friend /o
Cheers and until next time!