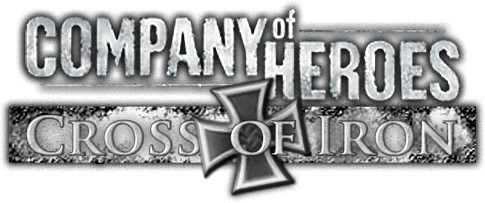 Announcing Cross of Iron, a Company of Heroes (CoH) mod meant to improve CoH balancing while adding some new units and abilities to the mix.
Unlike other mods, Cross of Iron is not about radically changing the CoH gameplay, but staying as close to the original one as possible. This means no one-hit-kill AT shots, no massive armies and no building Tigers, Konigstigers, Pershing and the like.
For those from the RelicNews forums, thank you for your feedback and we can't wait to get you the long-awaited version 1.00 out!
---
This mod also focuses on historically accurate facts to better improve the gameplay and to better diverse the twelve doctrines:
- the Panzer Elite is renamed to Waffen-SS, which is what they were based on;
- the Luftwaffe receives the ability to build Captured M4 Shermans;
- they also get a Stuka dive bomber call-in and the ability to build PaK 40 AT cannons;
- the Wehrmacht Defensive doctrine get a much-needed howitzer (the LeFH 18M) and the ability to build slit trenches;
- the British Glider-borne (previously Royal Commandos), get to call the unique "Cuckoo", a captured Panther G;
- the Waffen-SS Tank Destroyer doctrine can replace the Jagdpanther with a Jagdtiger (via the rewards system). It can only be called once and gains no veterancy.
- the US Armor company gets a M21 Mortar Halftrack to replace the mortar team;
- the US now get a Bazooka squad to better counter the German tanks;
- the US Infantry company can upgrade their riflemen squad to 8 men and can also choose between the M1 105mm fixed howitzer and the Priest M7 (limited to just 3 units) via the rewards system;
+ many more things!
---
Also, a number of critical balancing issues are resolved:
- to avoid the usual spamming of the Panther tank, the Wehrmacht must now go through one more phase: the Armoured Warfare Phase;
- the Knight's Cross Holder's are now exclusive to the Terror doctrine, since it was unfair to have both the ability to 'buy' veterancy and have an elite infantry unit;
- you can no longer build AT cannons from Field Barracks (includes both the 57mm and the PaK 38 cannon);
- since they lacked a more powerful AND armoured tank, the British Royal Engineers now get to select (via the rewards system) the Churchill "Black Prince", effectively a Churchill with a 17 pounder.
- the Royal Commandos from the glider call-in are no longer equipped with the Sten guns by default. The upgrade must be purchased separately so as to avoid commando spamming. They are also renamed to Glider-borne Infantry.
+ some more important balancing changes I can't think of right now.
---
We've also changed quite a few "vanilla" skins with High-quality community-made skins:
---
Another thing we have in store for Cross of Iron is an as easy as possible install experience.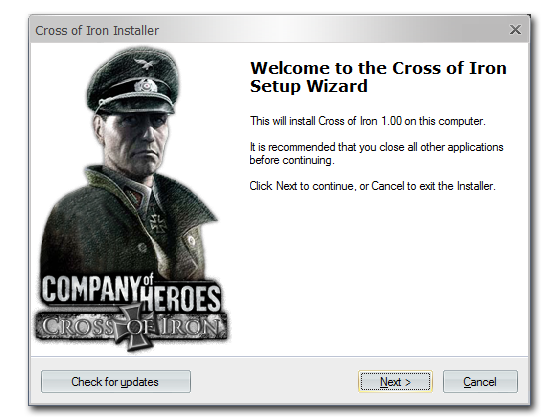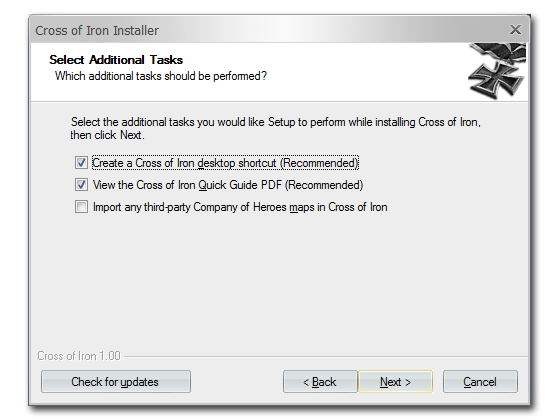 We've made a custom installer that not only looks great, but has a lot of neat features such as:
- points to the CoH install folder;
- provides direct feedback for the installed CoH version (warns you if you're using a too old or too new version);
- detects and provides several options if a previous Cross of Iron installation is found;
- gives various options during install time, such as viewing a full PDF guide of Cross of Iron and importing third-party maps from CoH;
- has full Windows 7 support for Aero peek and icon install progress;
+ various other checks, like if CoH is running or if and older, pre-1.00, CoI zipped version is detected.
We also have a custom and smart updater that can accurately check the version of CoH and CoI installed to see it they are compatible, as well as provide quick access to check for any newer updates.
---
After some two years of more-or-less obscurity, Cross of Iron is getting ready for release on this 1st November. For now, enjoy and comment the juicy teaser trailer: