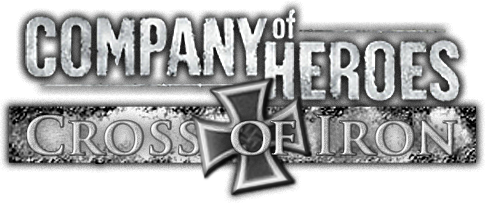 Cross of Iron 1.20 is now available for download!
The much expected Cross of Iron 1.20 is here and brings with it expanded doctrines for all the factions in CoH as well as some new units.
Since I've already covered most of the new units in this version of Cross of Iron in a previous news post, I'll concentrate on presenting the new doctrine abilities.
All twelve doctrines have now received a third column and some of them have been rebalanced as well, with some old abilities being moved from one column to another and even had their Command Point cost changed to better integrate the new options.
As such, the new doctrine trees look like this:
New US Army Commander Abilities:
Infantry Company: Anti-personnel Mines, Bofors 40mm Emplacement, Sherman 105mm
Airborne Company: .50CAL MG Nest Emplacement, 75mm Pack Howitzer Paradrop, M36 TD Battle Group
Armour Company: Heavy Engineers, Sherman 'Jumbo', M36b1 Tank Destroyer
New British Commonwealth Commander Abilities:
Royal Artillery Support: Canadian Infantry, Counter Battery, M10 'Achilles' Tank Destroyer
Glider-borne Support: Typhoon Air Recon, Typhoon Rocket Strike, Glider-dropped 6pdr AT Gun
Royal Engineers Support: Flamethrower Sappers, M3 T48 TD, Panther 'Cuckoo' Support
New Wehrmacht Commander Abilities:
Defensive Doctrine: Gebirgsjager Mountain Troops, Jagdpanzer IV L/48 TD, Off-map Kampfgruppe
Blitzkrieg Doctrine: Schwimmwagen, FW190 Strafe, Wespe 105mm Self-propelled Artillery
Terror Doctrine: Incendiary Traps, 75mm LeIG 18 Infantry Gun, Ostfront Veterans
New Waffen-SS Commander Abilities:
Scorched Earth Tactics: Panzer IV Munitions, SdKfz 251/16 Flamethrower HT, LeFH 18 105mm Howitzer
Luftwaffe Tactics: Butterfly Bombs, Fallschirmjager Command Post, Ju-87 Stuka Strike
Tank Destroyer Tactics: SdKfz 251/7 Pioneer HT, SdKfz 250/8 Heavy HT, Grille M Assault Gun
---
You can download the new full version from:
NOTE: Company of Heroes must be patched to version 2.601!
---
Please direct any feedback regarding the current release version to cross.of.iron.mod [AT] gmail [DOT] com