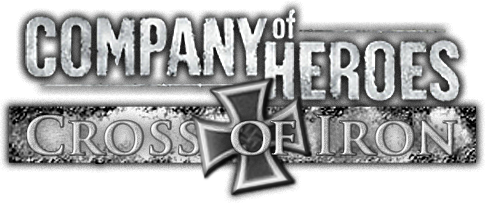 Cross of Iron 1.10.1 hotfix now available!
This hotfix clears the nasty localisation issues that got past us on our previous release and fixes a couple more bugs we've found.
Also, on behalf of the CoI Dev Team, we would like to thank saukopf of the RelicNews Forums for his help with the Chinese translation.
Changelist:
- Fixed the 'Gunner Killed Critical' for the Sherman tanks so that the gunner's hatch closes when he dies;
- Fixed a bug with the Sherman model, allowing the original Shermans to use the same skin as the new Sherman models;
- Fixed the pink wreck skin of the M1A1 75mm Pack Howitzer;
- Moved the Sherman Defensive Smoke ability back to slot 10, so that it no longer overlapped the Calliope Barrage and Sherman 'Crocodile' Bulldozer toggle abilities;
- Changed the M8 Greyhound's skin to be identical to the one used by the M20 Armoured Car;
- Replaced the Waffen-SS Luftwaffe's Mounted Scout Unit with the Kettenkrad due to too many bugs;
- Fixed the bug where the Flak 36 and Flakvierling 38 AA guns built by the Luftwaffe Ground Forces could be moved around like AT guns once they were built;
- Fixed no text and/or startup errors with non-English CoH localisations;
+ Added Chinese localisation.
---
You can download this release from:
NOTE: Cross of Iron 1.10 must be installed before applying this patch!
---
Please direct any feedback regarding the current release version to cross.of.iron.mod [AT] gmail [DOT] com