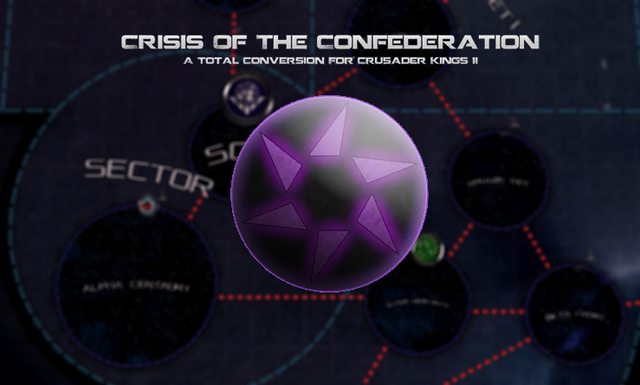 Compatible With: Crusader Kings II 2.3.4
Checksum: DOOS
Steam Workshop Mirror
Crisis of the Confederation is a total conversion mod for Crusader Kings II, allowing the player to take the role of a military officer, politician, or crime lord amidst the chaotic political upheavals of the 31st century. It is set in an original science-fiction setting inspired by Fading Suns, Warhammer 40,000, Dune, and Foundation.
Our fourth beta release is once again mostly focused on fixing bugs, we've also made strides in another areas. Graphically, COTC is almost a completely distinct game from vanilla now, as we have completely replaced all vanilla models with our custom ones, as well as added flags for all titles. There are also a few new mechanical changes, such as new combat events.
Almost as important, we have finally managed to squeeze the mod (just barely, at 47MB) onto Steam Workshop! In honor of this event, and not at all as a shameless marketing gimmick, we are also announcing the Crisis of the Confederation AAR Incentive Program Contest! The rules are simple:
You must write a Crisis of the Confederation AAR or record a Crisis of the Confederation LP, and submit a link to it in this thread. The AAR must reach either in-game-year 3018 or a game over, whichever comes first.
The contest begins as of midnight on April 22nd, and will end at midnight on May 22nd, 2015.
Along with your AAR, you must submit a description of your desired cameo character, including (at a minimum) name, age, gender, culture, ideology, kingdom, and holding type. Provided you meet the requirements above, your character will be added to a future version of CotC as a baron-level ruler.
Cameo characters must be lore-appropriate. I reserve the right not to use any cameo character whose name includes the string xX_
New dynasties for your character are fine, new cultures or religions are not. Sorry. Try to fit them into the existing framework as best as you can.
I'm looking forward to seeing what all of you can come up with!