Now, first off, I would like to apologise to everyone watching this mod. Updates have been a little thin on the ground recently, due to real life issues with the Mod leader, GeneralGideonX. I hope you will all appriciate that real life is more important than a Mod. Thank you.
Now, onto the interesting stuff! (Actually, most of you probably saw the word "apology" and jumped straight to here, but hey, what can I do about that?) Major progression has been made on the Mod. We can now show you the updated Nod Artificial Intelligence, CABAL, a section of the UDI spacecraft, and, most importantly, the updated .exe file, with new Title Menu included.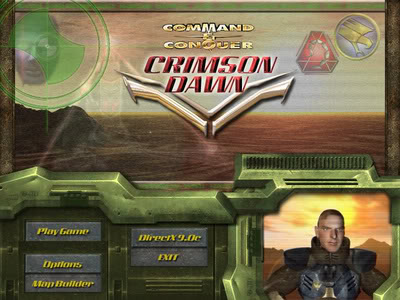 This entails the following:
We now completley control every aspect of the game, wih only the limitations of the SAGE engine. No more hard-coded stuff here, no siree!
Once the single player game is beaten, a cheat menu is unlcoked, so you can play through the campaign again, but have a little more fun :P
Now has a built in link to a modified World Builder, allowing construction of fan-made Crimson Dawn maps.
The .exe now uses DirectX 9.0c, with an installer for 9.0c bundled with it.
A Crimson Dawn specific Auto-Update facility, allowing easy obtaining of new patches/updates.
Music Juke Box. Fairly self explanatory this I would imagine. Now you can listen to all the Crimson Dawn exclusive music at the touch of a button!
Thank you for your time,
Matrixnut42, Crimson Dawn Public Relations.