I just recently found this in fallout studios, i believe there is more top secret units posted in fallout studios.
~FILM_Smartson
---
The Superweapons General lacked content. Here's a new unit to help fix that problem: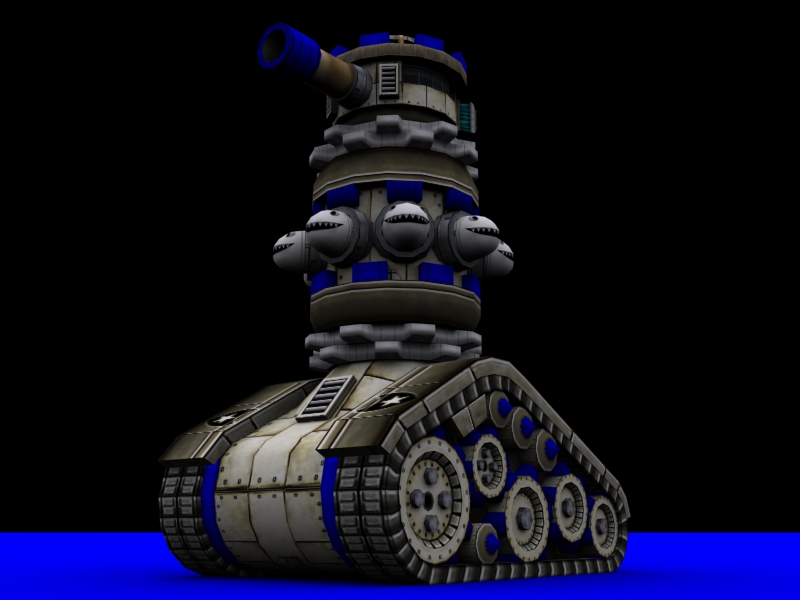 Weaponry:
The main turret way up top fires a really big energy pulse at targets, easily destroying light tanks in a single hit. At the center are eight giant missile launchers, firing massive Thomas Hawk missiles. These missiles really do a lot more damage than Tomahawk missiles, but travel much slower. They can be launched from any angle, and fly around to hit their targets. These might replace the missiles for the normal Superweapons General Tomahawk as well, unless I have a better idea.
The Doomsday Device itself is the slowest unit in the game, but one of the most destructive. The massive energy turret has excellent range, due to being mounted on a towering... tower. And the eight missile launchers allow it to engage enemies in any direction without using the turret.
Design:
The silver things between the sections of the tower are sets of two gears that spin in opposite directions, accomplishing no real purpose whatsoever, but looking cool.
The treads are driven by a series of gears, which you will be able to see rotate in-game. The rollers cannot actually roll due to engine limitations, so I made them round enough so you don't notice as much.
You cannot see them from this angle, but this unit has Advanced Cold Fusion Reactors in the back of the chassis, and two on the back of the turret. This thing is very big and needs a lot of power just to move, let alone fire its main gun.
Comments/Criticism:
I need a bit of constructive criticism here, so this is a WIP render for you to check out. There's a bit too much housecolor on the treads, which I plan to fix very soon. I had to make a custom tread texture for this too, which turned out alright.
Also need comments on the unit's actual name. If you think you have a better one, let me know. This unit was based off of Bowser Jr.'s Boomsday Device in Super Mario Galaxy 2, which is where the name came from, except with a different first letter.
Oh yeah, the polygon count is 8578 with the missiles. Good thing you will never have more than one. But really, I've tested vehicles with over 60000 polys and not had any lag problems, so I think it will be fine. (That unit was a modified 81 Topol M with 81 missile tubes.)
~Jordan
---
I will Revive this unit as well, it looks REALLY AWESOME!
~FILM_Smartson