Hello all! This patch finally brings some new content to the game and quite a few requested changes. It also makes some massive changes to the backend of the game. This means that you will require a new world. I realise how much of an idiot I sound considering I said that 0.5.3 would fix this - it didn't, I'll admit that, but this does.
Changelog:
---------------
0.5.3 --> 0.5.4
---------------
# ADDITIONS
- Added proper villages! Villagers will now live together in huts.
- Updated the villager textures.
- Added a fourth Device option: pure. Try it if the others don't work.
- Tree bark can now be taken from trees.
- Baskets can now be crafted using tree bark.
- Baskets can now be placed by dropping them.
- Baskets can now be picked up by emptying them and walking over them.
- You can now make huts (temporarily the only thing you can make in place of houses).
# CHANGES
- Branches are now dropped around trees when they are cut down.
- Modified the trade window graphic slightly.
- Modified the "You Died" graphic slightly.
- The ambience music will now play more frequently.
- Drinking water will now completely fill your thirst (whilst standing still).
- Increased the number of rocks in the world.
# FIXES
- Fixed the interaction cursor not working in dungeons.
- Fixed energy not being taken away in some cases.
- Fixed losing legs at random places.
- Fixed the invisible baskets.
- Fixed hovering over items giving an error.
- Fixed deaths in dungeons.
- Fixed spawning in walls.
- Fixed the screen border appearing on some graphics cards.
- Fixed some issues with the Device options.
- Fixed the time it took to load a world in multiplayer.
Highlights
Baskets can now be crafted using tree bark (which can be obtained by simply right-clicking a tree and clicking "Take Bark"). You will need 5 Tree Barks in order to make a finished basket. These baskets can be placed by right-clicking and dropping them from your inventory.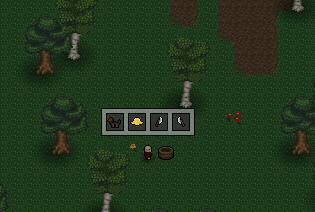 You can then click on them to open up their mini inventory. Baskets can hold up to 4 items. To pick it up again you must empty it out and then you can pick it up by simply walking over it.
Villagers have had a massive makeover. They are now a lot more tribal and live in huts. Huts are now also buildable in place (temporarily) of houses. We are planning to redo the building system we wanted to take our time with it to make it as good as can be.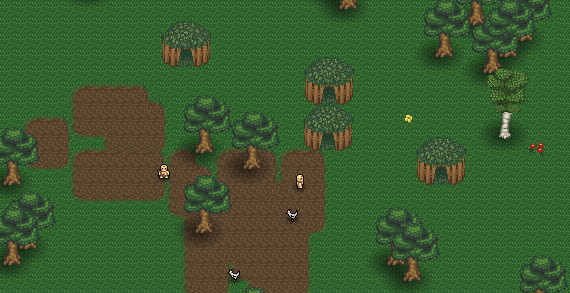 Finally, due to the large number of requests, you will now drink until your thirst bar has been completely filled up (walking will interrupt this).
Merry Christmas everyone and thank you for your continued support!