Howdy folks!
After i have been pretty busy for long time here some news about my new personal project.
It's in alpha status now but it grows pretty fast, so it should be out really soon! Maybe i can complete it faster if i see some interest in it :D I will start my first game for the new OUYA Console in January. Because i will need all my time and energy for that upcoming project - i need to gather the funds now.
For you this means that you will encounter some small games at small prices containing big fun! This is the first of this series of arcade like games and i will release some more until the end of this year.
So here the info about this one...
Crash Site Blue13
(working title so far) is a fun little skill based casual game where the player can improve and replay a lot!
You are leading a green, blobby and tentacled alien that crashes on the planet "Blue13" when he was out for a mission. His ship scattered into thousandths of parts and the only way to get off this alien planet is to collect those pars and repair the ship. But that is not an easy walk (or swim or stuff)...
Basically the Alien ... i will call him ... Bob ... swims where ever you're pointing at. If you're thinking now that this doesn't sound to hard you're right. Well almost - the planet is the habitat of life forms such as:
The Cha-Cha-Crab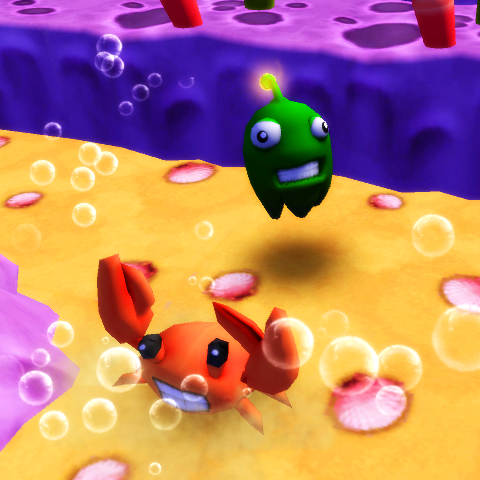 Some funny dancing crag that snaps all the time with it's claws - so don't touch 'em!
The Octospike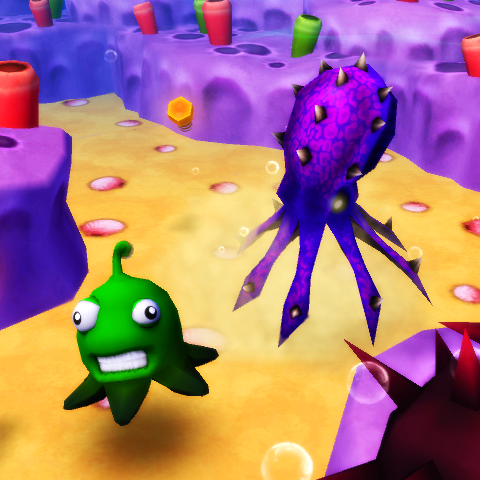 Always in a bad mood that spiced octopus swirls forth and back and really hurts...
And the T-Rex-Eel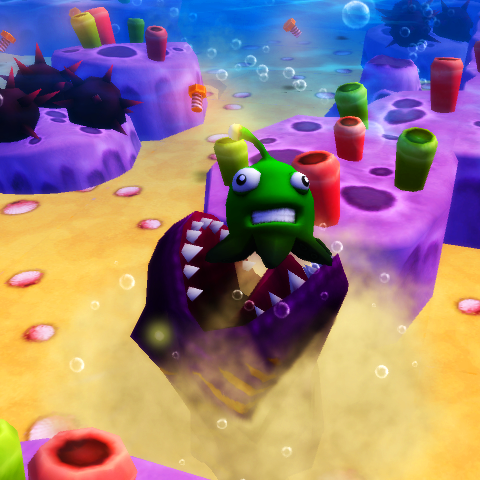 The T-Rex-Eel is a big Predator that lurks hungry beneath the ground... for lunch.
Those are not the only threats inside the reefs on "Blue13". You will face streams, vulcans and urchins too - but i don't want do spoil everything right away. Just stay tuned for the next days as i will provide some more info once the Game has been authorized ;).
Oh,yeah, the green one it the alien ... the alien that you will be leading ... i'm sure you know what i mean...
The Game is controlled via mouse / finger touch from an top-down perspective like this shot shows. It is taken in the editor and there are quite a few elements that are not final like the interface.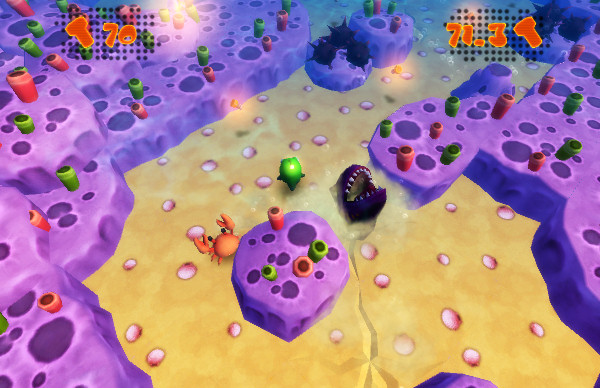 BTW:
As the game is close to be finished i'm be available to help out again... PM me ;)
Thanks for your attention and have a nice day!
-Storm