Few days ago, on 11th of November, the Indiegogo campaign for the game failed with only 33% funded (3,342€). Like some of you I'm a bit bitter about the outcome of the campaign as well. Was I prepared for fail? Of course, but I'm optimistic type of the person and I had high hopes for the game. For about a week or so I disappeared to relax from 2 months of rush, to get my mind straight and prepare for the future. I got many messages asking weather I'm ok. Yes, I'm ok and ready to kick ass, thanks for your concern :)
This is just one failure of many yet to come. Let me remind you that great things also happened ;)


Thank you!
First of all I would like to thank you all for the amazing support I was getting throught the campaign. Retweets (Twitter folks, you are really amazing!), shares, articles, motivation, suggestions and I can't tell you how much I appreciate you all. I know for sure now that I have a lot of people ready to support me and the game and that's a lot!
Steam Greenlight
Crowdfunding failed, yes, but I should remind you all the the game got Greenlit in 2 weeks which is amazing. It didn't even reach top 100 when it got accepted.



Plan B and the future
First of all I need to take care of myself and get some money back in to my account. I'll take some to do freelancing as well as Asset Store material so I can get going. I'll try to work on the game at the same time to keep it rolling.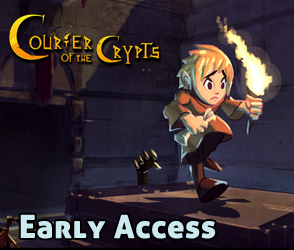 I need money and I need to keep working on the game. Getting a full time job would move the release date to 2020. I don't feeli like doing another crowfunding campaign and although there are others options I've decided to go with the Early Access. With this option I can start selling the game while gathering feedback from the players. For me this seems the most reasonable option to pick since I'm already greenlit. For now I'll be working on the game until I get like 1/3 of the content done and after that I'll be releasing it as an Early Access.
For more details about everything read this post on my game development blog.
Thanks again for supportig me, cheers ;)