Cosmic Credits and Crazy Fluctuations!
We are back! After we have taken some summer break to re-gain energy for the latest Ringblazer update, we can finally provide you with a whole bunch of cool new features, which make Ringblazer even more fun and exciting than before!
---
Cosmic Credits
If you have played Ringblazer before, you will already have encountered the silver coins that take you right to the next level. From this update on, also look out for the golden ones! Different to the ordinary silver coins, these Cosmic Credits will pay your way to the next galaxy. So if - until now - you always wanted to see what is behind GENESIS and REPULSION, but never managed to finish all levels of these: This is your chance to pay your ticket to new adventures! And save them well - you may get even more in return for the Cosmic Credits in future updates!
---
Phantasm
Of course, travelling the universe would be boring if it only took you to the same old places, so we decided to add a whole new galaxy for you to explore! This one - which encounters strange gravital matter fluctuations - comes with a special twist: It does not only introduce a new type of tiles, but also the concept of the Action Button, which lets you interact with the new type of tiles directly. Hopefully your reactions are quick enough to make it to the top of the new leaderboards for Adventure, Time Trial and Survival mode in Phantasm!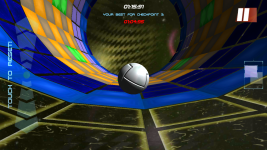 Phantasm, the new galaxy in the latest Ringblazer update,
is scourged by gravital matter fluctuations
---
... and more !
We have found that with all these new tiles and galaxies, it gets a bit hard to tell the stories and functions behind all of this in just one place, as for example the tutorial. So from now on, each galaxy will introduce itself with a short description text, which does not only contain some interesting facts about the world that you are going to explore, but also gives hints about what dangers may await you there.
In addition, we have done some fine tuning to the game play. Finishing a galaxy will now be done faster, as we decreased the number of iterations that it takes to reach the last level. Moreover, we've made it a bit easier to take the first steps in the world of Ringblazer by slightly adapting the game speed.
From the technichal point of view, we have also gone for bug hunt - as always - and improved the way of how your local data on the device is kept in synch with your Google Play Account. With that, no collected Cosmic Credit and no discovered galaxy should be lost, no matter how much progress you have made without connection to the Play Services.
---
We hope you will enjoy the new features as much as we do - and as much as we enjoyed implementing them !
Get the latest version of Ringblazer now, in Google Play Store:
Play.google.com