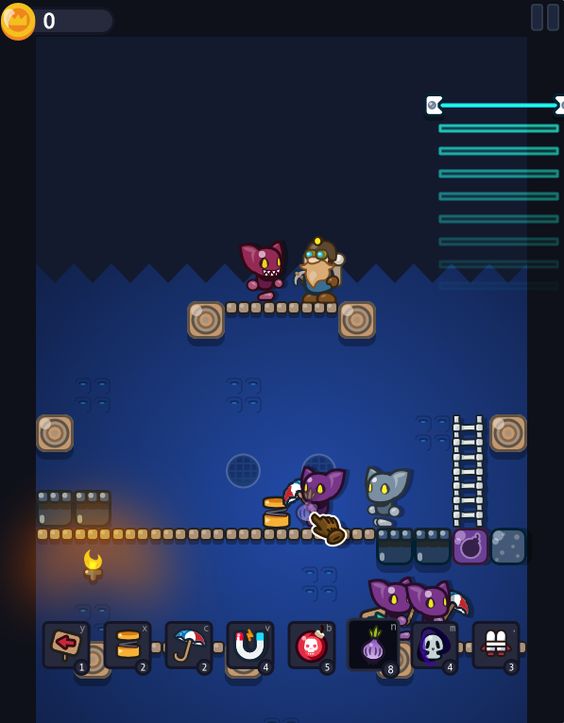 Core game mechanics done.
Update one the development progress of Minions within a Dungeon:

This sounds huge. But core mechanics are the basics; which everything else relies on. So: It's good but it's not like "almost done". Just to get the wind out of the sails - haha. The core mechanics are done means: physics, lighting / blending, physics related like: jumping, climbing, falling and main-abilities and all the base classes: enemies, minions, placeables, collectables, environments, effects and abilities etc. are done.
So, what else is on the list? First on: traps then enemy-types, UI and finally splashscreens and text-stuff. When all of this is done I will turn to leveldesign. Everything what I am about to do now relies on the core mechanics. So they had to be done first.
The game is already over one year in development. This includes setting gametype, mechanics, finding the right graphics style, doing the base animations and graphics, some sounds, development. Somewere around this summer I realized that the code base the game was build on had grown too unclean over the last past month. And I needed to refactore a way too much. So I decided to rewrite big parts of the game. This was faster then refactoring the old code; And with a higher level of knowledge, there were smarter ways to be gone.
In the end this resulted in a way better User Experience by playing the game. Everything feels and looks more smooth and the codebase is smaller and cleaner. This also makes maintaining and upgrading the game easier and faster. It had helped a lot. Since I am always concerned about giving the best possible experience, the more smooth feeling of the game really comforts me. The first user test will start by the end of this year, there will also be a report on this.
Releasing in iterations.
Something like early access on steam: That's what I would basically do. But the game isn't that easy to push into iterations. This relies on the architecture of gameplay. For a complete level I would need the whole base mechanics and much more. Everything is connected and without building it in from level 1, it would be very hard to create a User Experience that is worse it. (In this level)
So no iterative release like you know from early access games. That sounds terrible so I got thinking about this for a while and I came up with another idea for the release cycle. You know: getting your game out is always the hardest part. Once the base game is complete, it will be release to early access or something like that - I do not know yet. But it won't cover everything I would like to see ingame. Anyway the game itself will be complete, so the graphics are polished, sounds are there and everything the released levels need is delivered with the game.
Free DLCs and Crowdfunding
Just for an example, I am thinking of different level settings to be released in iterations along with new "heroes" - there will be a post on additional content and heroes somewere around when time has come.
But what I like to say is: The "core" game will be released finished as early access and a whole more content will following depending on your feedback. I think early access / early birds is a great way to see what you, the community / gamers think about the game; What you expect and miss on it. And then: get the game more in the direction you want it to be. So this would be a base to build on. And I could design more game content based on your feedback which will be pushed into the game by iteration. Note that this isn't like expanding some items like in early access games; it's more like you want to see a specific environment-settings and a whole new chapter is made in this setting.
Feedback appreciated
In the end it's kind of early access, but it is not early access through the gamedevelopment, it's contentwise. I hope you like that idea. Let me get your feedback on this via twitter: @sam_vieten.
Content through kickstarter
There could also be something like a kickstarter and for every goal reached, there could be a content-update on the game. So it's community funded. But that's just a thought. We will see in 2017, how it turns out to be. I hope you enjoyed this like excurse into the release-plan. Any feedback is appreciated - as always.
cheers,
sam