Building System
Buildings will have two general types which we're calling Modifiable and Constructible.
Modifiable Buildings
In a post-apocalyptic situation like that found in Zone 416, you generally are not going to have the opportunity to lay brick and mortar for a brand new building. Modifications allow you to use existing buildings and change them to suit your purposes.
In Zone 416, each pre-existing building you encounter will have a number of floors relative to its in-game height and the type of neighbourhood you're in. Each floor can be converted to serve a different purpose. You can then assign Survivors to work in each floor. In order to modify a floor, you must first clear it out.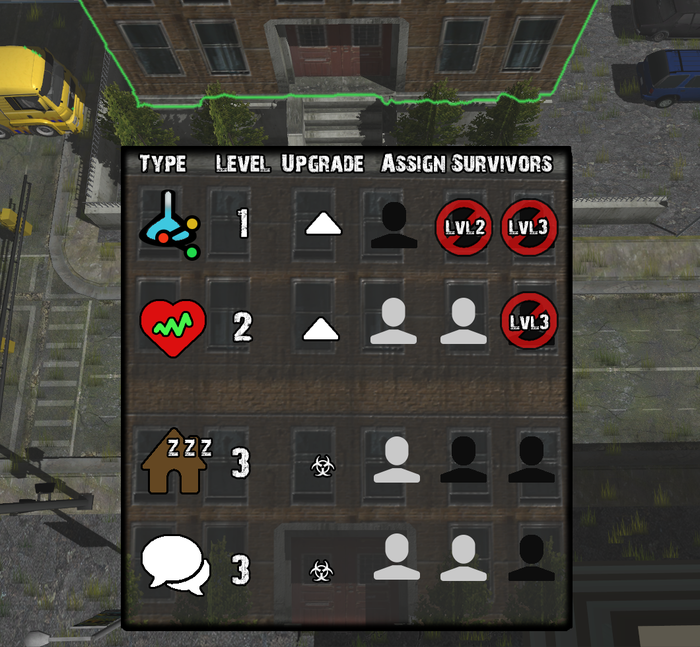 Mock Up of Modifiable Building UI
Clearing out a building requires three steps:
Scout - this will tell you how many enemies occupy the building without committing to an attack
Attack - battle the occupants in real time - the enemies will be dispelled from the floor and you can attack them as they exit the building
Clear - sometimes traps or sneaky occupants may still pose a danger, better take some time to clear out your new home
Some examples of the floor types we have planned include:
Kitchen - one of the first floors you'll want, improves food's ability to avert Hunger while also improving Happiness
Sleeping Quarters - a safe place to sleep will improve your Energy levels after sleeping
Workshop - build tools and defenses to keep your Survivors safe
Research Laboratory - a late-game floor that greatly improves scientific research
Constructible Buildings (and Defenses)
After you own a building, you're going to want to beef up your defenses. Standalone buildings are all found outside the modified buildings and can be placed, built or razed in any empty land (lawns, roads, parking lots).A few buildings would not fit indoors (like gardens), so it made sense that you would build them on empty land. Constructible buildings are generally ragged and flimsy so they are quick to produce. They should visually stand out from the existing architecture of Toronto.
We want defenses to be visible to the player so you can tell at a glance the strength of an enemy encampment. Some examples of defenses being built can be seen in the trailer. We currently have watchtowers, fencing, and guard houses implemented, but much more is planned! The bulk of your building resources will be going into these structures to help secure your borders against Zombie invasion.