Drum Roll Please...

Switch won!

Thanks to Reddit, our poll caught the internet's attention and we received a grand total of 3,495 votes in Twitter and Facebook. At first we thought PS4/PSVita would surely win, but by the end of the poll, about 1,600 Nintendo fans had shown their interest in Legrand Legacy for Switch.

Now that the poll is over (and with such an overwhelming response for Switch), we have some important decisions to make. We are not a big studio and we have limited resources and budget, so our final decision will be based mainly on economic viability.
Rest assured whatever console we decide to port to, our Kickstarter and PayPal backers will be the first to know. However, you can still join us on our journey by subscribing to our weekly updates via Legrandlegacy.com.
Tactical War

In the meantime, we've been pulling all-nighters in preparation for our Beta launch. One of the biggest features that will be making its debut appearance in our Beta is tactical war.

A GIF literally speaks a thousand words...

We haven't really talked about tactical war in details, but it was largely inspired by one of our favorite mechanics in Suikoden. We had so much fun creating strategies and putting our war general skills to the test while playing Suikoden that we can't help but to include a similar feature in our own game.

Between the great war Mugna Feud and the tactical war feature, you may have realized that Legrand Legacy addresses the topic of war in a few aspects of the game. This is not unintentional and you will learn more as the story unfolds. We also consider this feature to be another story-telling mechanic through which you can experience our 6 heroes' progression.

Unfortunately we don't have a confirmed date for our Beta release yet, but stay tuned!
Konnichiwa Kyoto!

In preparation for our Japan trip, we decided to print a stack of Japanese brochures. This seemed like a good idea at first, but created quite a bit of chaos in the studio when we realized none of us speaks Japanese well (despite the fact that we're all JRPG fans). Thankfully, one of our team members, Aki, decided to roll up his sleeves and helped us with the translation. Hope we made our Japanese backers proud.

Uwil is very nervous about having to speak in his limited Japanese, but he is definitely looking forward to playing other Kickstarter games that will be showcased in BitSummit. This will be his first time in Kyoto too so if you have any recommendations on places to visit, please let us know!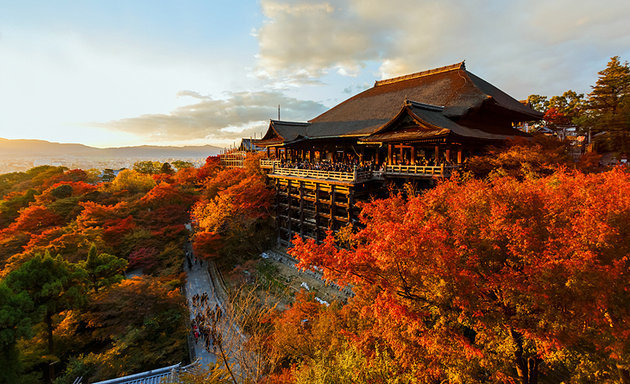 The beautiful and majestic Kiyomizu Temple
(photo courtesy of Planetware.com)

Thanks for Reading!

It's been a hectic week but we're happy to share all the work that goes behind the scene. We also hope you enjoyed reading this update. We'll report back next week from the Indie Prize floor in Casual Connect Singapore and the Kickstarter Games area in BitSummit Kyoto!

-Revinia & The SEMISOFT Team-