After a long month waiting, Conquer Online has finally announced the arrival of their latest addition – the Oriental AssassinA video showing details of this incredible class in action has also been released.
Being introduced as a powerful long-range fighter, the video shows a promising future for this mystery from the East. They are not just excellent at hunting monsters, but also doing great at single or group PvP. Based on CO's "easy-to-learn" design concept, new players can also learn how to use
their assassin quickly, getting you right into the action! You begin your training as a dedicated
Archer, gaining the strength and ability needed to become an ancient assassin at Level 40!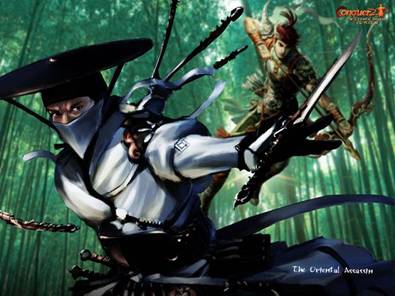 With the arrival the Oriental Assassin, a new US server will also be opened on Jan. 29th, which takes the name of this wonderful new addition to CO! To give the newer adventurers a boost to help them begin their adventure, the CO team has prepared several fun events for all players on the "Assassin" server, along with a starter pack that's full of useful goodies!
With the Oriental Assassins unleashed upon the world, CO now has 2 different styles of legendary
swords for hire, the Ninja and the Oriental Assassin. Which will be given the opportunity to prove who's the strongest? Only time will tell!