Apparently I had to re-structure and research a bit more in some of games context, because once I finish this mod and if it ever does get somewhere, it's something I'm going to have to explain to everyone. There's alot of background information that goes into making this mod but it's going to be a wall of text if I post them all that once, however hopefully over time, I will be able to post them separately as news articles over the course of the development process.
There's alot of things that I want to plan and hopefully confirm. These's are:
- If this mod works in Steam. It's something I have to check. I managed to take advantage of the sales on Steam on the Unreal games during the Christmas sales, so that was a plus, so it's going to be easy for me to check to see if I can get this mod on their for people to play if they have the copy of the game, as digital disturbution is now popular.
- Weapons, still developing weapons to replace the current ones and still waiting to confirm if I can do which these weapons which I have planned. That's a secret for now.
- Minigames, this is no secret. I want to make use of the contextual menu which is provided with the original Unreal Gold game which I've already modded, so I want to add a minigame to make use of the contextual menu as a mod and release it, just to show off what a mod can do for Unreal Gold. A matter of fact, it means writing up entirely new code just for the sake of the new game.
- Character: I'm planning to have three models and each with skins. One male, one female and one elder male and to put it into the mod. Modelling these and animating them take a while.
- Better quality concept art. Apparently some of my art is scruffy and looks hairy apparently, so I should improve them and make them less scruffy and have them more bold and 'badass'. Some also looks bland, so I'm preparing to add a bit more weight and detail in some of my concept art work. It has everything to do with the mod because these are the images that help me get the mod off the ground and reduce the load and stress as I work on the mod.
- The art direction of the graphics. People asking me if it's cartoony or if it's realistic. I don't know how I can define and confirm the look and feel of the Unreal engine game. I think the Unreal Engine is almost a medium in itself in terms of video games, digital and computer arts. The best decision is a mix of both and I think the original Unreal did that. So long as it looks like it's part of the unreal world, it's worth it and it actually makes a good mod if it fits into it, because that's the entire point of a mod. If I did something like Pixel Art world, how does that go into the original Unreal world? It doesn't. I should just focus on making the mod. I should focus on producing that and being aware of it and I am going to put some context into how it fits into the Unreal world, which I'm not going to confirm yet.
- Sound design. With music, I'm getting the tracker prepared and looking into it and I've already seen how it works and have got used to it. As it's mine mod, I have to take responsibly in getting that off the ground. It's nice to see that making music is as easy as it looks. I can confirm that some new sound effects will be in the mod but that's not much of an issue and I don't expect much of it.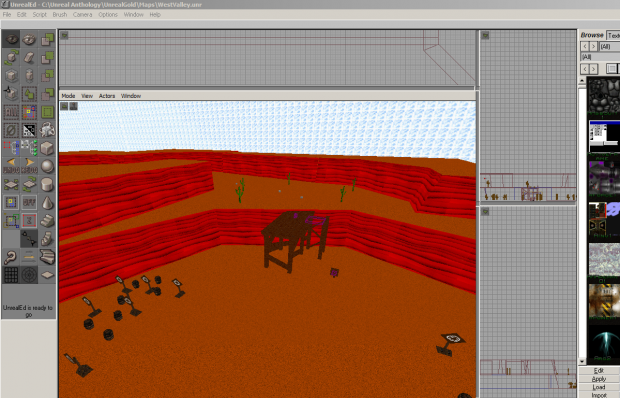 Development wise so far, a good start so far was polishing the canyons as seen in these pictures. My texture making skills have improved, I just never thought I'll see the day that I actually see it and the texture (below) was created in one good. Sometimes when I made textures, it's takes minutes, however making this took less time then I imagined.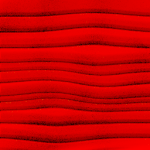 It's also my first terrain map in full, as some of my other maps I've worked in the part, where very blocky, like simple block shapes with some curves on them and cityscapes, so it's wonderful to actually see my terrain world in my work. I'm getting into a routine where I'm doing good work however afterwards I manage to have the energy to do better but I'll let you judge for yourself.
Before/Original: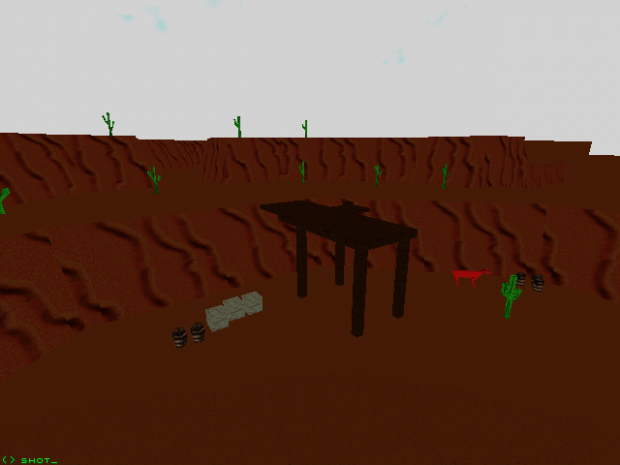 After/New Texture Applied: