What a year!
A total solar eclipse, Donald Trump becomes president, and Confederate Express is coming back from the dead like a malignant brain tumor!
To kick off this exclusive bi-centennial update, here are some tasty news for you!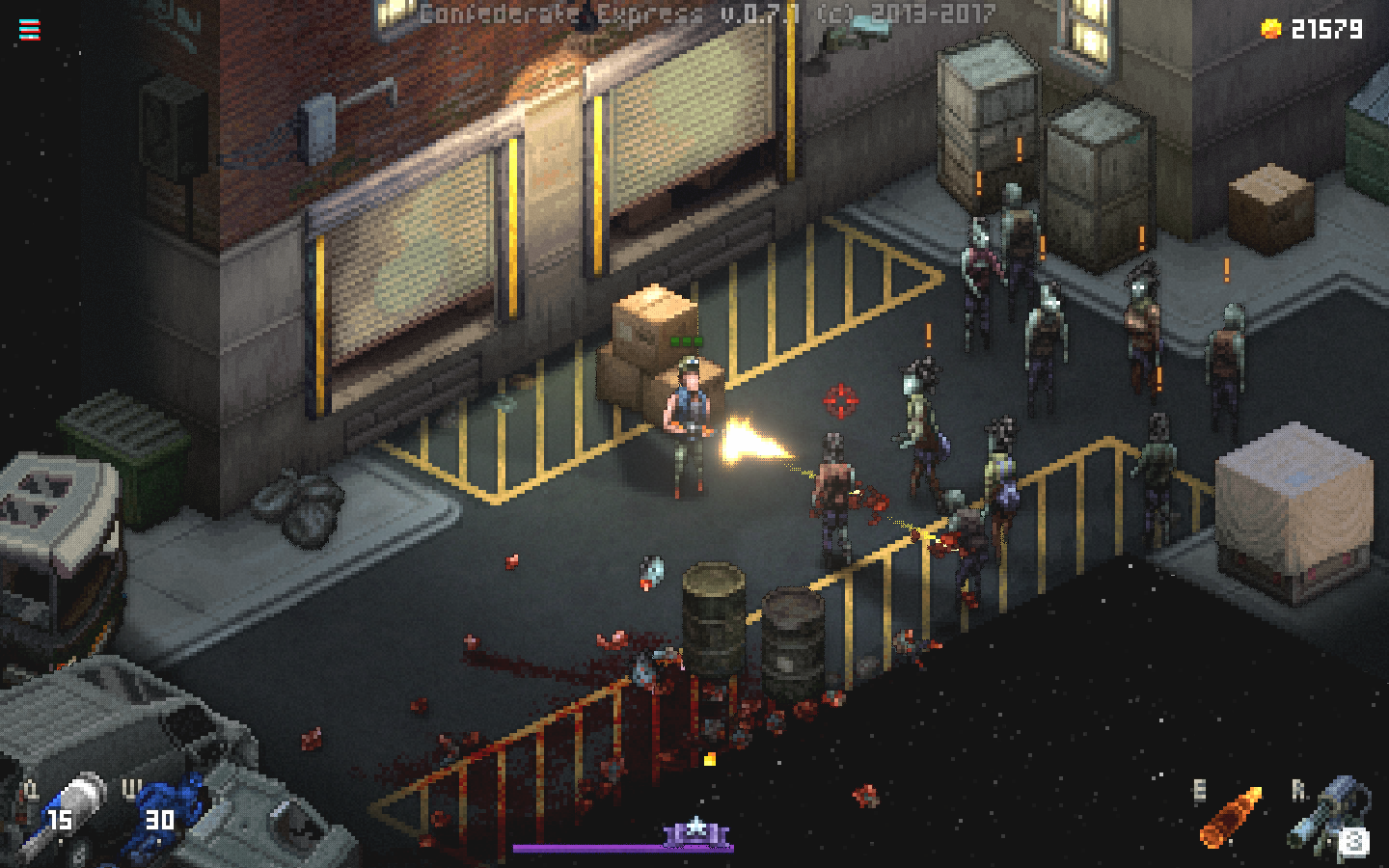 We finally have something to show you guys other than a bunch of gifs and one-liners. This time, it's an exciting opportunity to experience an early version of our highly-anticipated masterpiece, Confederate Express! Complete with a revamped custom high-performance framework False2D™, 42,000 hand-drawn animation frames, and an ocean's worth of pixelated blood.
Proceed with caution, as flying chunks of zombie flesh might petrify even the strongest minds!
~~~~~~~~~~~~~~~~~~~~~~~~~~~~~~~~~~~~~~~~~~~~~~~~
Development:
Confederate Express is approaching the end of its production cycle, and we are trying to polish the general core gameplay elements. To minimize redundant feedback, this early version contents have been limited to:
macOS build only
1 playable character (Jackson)
4 powerful abilities
2 enemy types (Zombie + Stalker)
3 playable levels
core mechanics: gold collection, experience accrual, interactive environment
As development continues, the game's content will expand gradually (including a Windows PC build), up until we put together a final version of the game. You can follow progress on our DevLog: Kilobite.itch.io
All proceeds collected will go directly towards development of Confederate Express, including contractor fees for our sound designer, AJ Lornie.
~~~~~~~~~~~~~~~~~~~~~~~~~~~~~~~~~~~~~~~~~~~~~~~~
Rewards:
Every backer with a pledge of $25 $10 and higher will receive a key to ConfederateExpress early version available for download at kilobite.itch.io/conex. In addition, a Steam key will be provided to unlock a full version scheduled for release this January. Target platforms are macOS and Windows PC.
Our goal is to accumulate as much feedback as possible; so please do not hesitate and contact us via info@kilobite.com (no leasing agreements please)
Also, please join us at private developer's forum, exclusively at kilobite.itch.io/conex/community
And as always, thank you for your long-lasting support!! Appreciate ya!
Enjoy!