Hey Guys,
My name is Uálison Rodrigues, am a Brazilian developer, despite many difficulties in developing, mainly by the country where I live we find several barriers to those who work with games, developing games is not easy, but that was the career I have chosen for me, and Love do this.
In this my first article I would like to talk about the concepts of my game PENGUI ADVENTURES. And clear why the name is "Pengui" and not Penguin. I think many wonder that, among other things. Come on.
FIRST ABOUT OUR "HERO"
Pengui is a hybrid of a raven with a Penguin, it is guys (laughs). I would describe it as a crazy and insane creature, that actually does what it wants, the inspiration for this character came into my childhood, where I and my brother we created crazy situations with our toys and remarkable characters. Despite this inspiration, Pengui is a totally unique character all its design, from art to personality were drawn up in two weeks working with Illustrator. Really conceived without legs even, many ask why did this to me, you know that not I know, but I wanted him to walk bouncing on the floor, had legs would be embarrassed, I evaluate. And he is called "Pengui" same, why the name? This only my brother and I know (laughs). Secret!
CONCEPTS OF STAGES AND STORY
As you can see, my sketches are very weak, but that does not mean that bad draw, I remember like it was yesterday, when I drew these sketches, and looks today. Wanted a striking and challenging game, believe it will be a little hard to come phases (laughs).

When I play a game, I always feel that urge to get involved in the story or at least a reason to be there, above one of the concepts of history, Pengui kidnaps the real egg, future prince of the kingdom, obvious that the king would not let it cheap and sends his army to the tower where he lives. It would have made a video introduction to the history, but worth the wonderful Unity game engine (Version Free) does not support videos, but I am still happy with the result so far, of course some textures and arts need to be improved, I will this until the conclusion of the game.

In this first phase, wanted to leave the game 2D conventional platform, so I thought in a Tower Defence with 2D platform elements, the part of the soldiers up the stairs, the soldier who steals the prince (egg) and the archers. Really wanted to cause despair in those who played, I believe even get angry when I play and die sometimes. But the good thing is that I'm wanting to play again. I think this is good, I think I could put an addictive factor in gameplay.
Below, the concept of controls: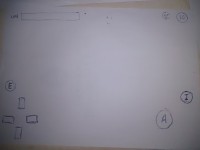 Soon Gameplay running on Android.
Soon the concept and gameplay of the second phase, already in production.
For now that's it guys, Thanks
PS: Sorry my English :)