When I started working on Scribble(WT), I literally did that on an actual piece of paper. Just what I thought would make a good platformer.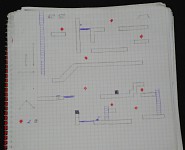 This was what I drew in a very lame Math lesson (not that any math lesson before or after was any more thrilling) on September 3rd. It does indeed show quite a few more features than actually made it in game, including sloped surfaces and levers. The levers I actually just didn't need for the early levels and the concept for the later levels actually already ruled out the use of them, thus they won't be found. Slopes on the other hand happen to be relatively complicated to properly implement and also look assbitingly bad when drawn like that. Since I was to keep up the original style of my drawings and thus the checkered paper was pretty much mandatory, I decided not to use slopes.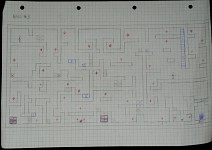 This is the most recent drawing, as indicated by the use of TNT, the new enemy and crates, which are the latest additions to the game.
This level - Hard-3 - is also the first one where the use of TNT is not optional, as can be seen by the crates blocking several ways that one definetely has to get through.
Hard-4 is currently being drawn (I could theoretically make the levels directly in GIMP, but to add difficulty, I decided to make all those levels non-linear, for which I need to have a good look at the entire level. That just works better on paper) and just like Hard-1 and 3 it's a maze. I think Hard-5 and 6 as well as the X-Level will be mazes as well... we'll see.
Also, soon to be added are Achievements, which can and will add more points to your score (Which can result in the X-Level being unlocked quite a bit earlier, as it unlocks when the player has more than 177 points)