While our programmers are busy working on a new vertical slice of the game, our concept artists are crafting the first pass of our art content. Here, one of our concept artists details his process. The finished art will be used by our modelers to create the first boss of the game. Stay tuned for even more great stuff, and of course development videos as we progress.
Here's an excerpt from John's tumblr post.
Here's a breakdown of how I came to create this mechanized monstrosity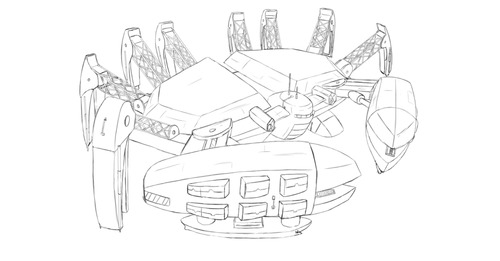 It's a mobile offshore oil rig that's fashioned after a crustacean. You know, like how all mobile offshore oil rigs are. Anyways, the concept called for a mecha crab. Not wanting to go the predictable route of making it a walking crab tank and calling it one, I decided to push my creativity (and my patience) a bit further. As with all my concepts, I start off with a quick, loose, scribble to get the main ideas straight out on whatever medium is readily available. This time around, it's a piece of notebook paper and a pen lying around at work (sshhhh….don't tell my boss I'm trying to art at work).
At this phase, I was still kind of going the tank route. I quickly sketched out detail shots of two versions of this mecha crab. One land based: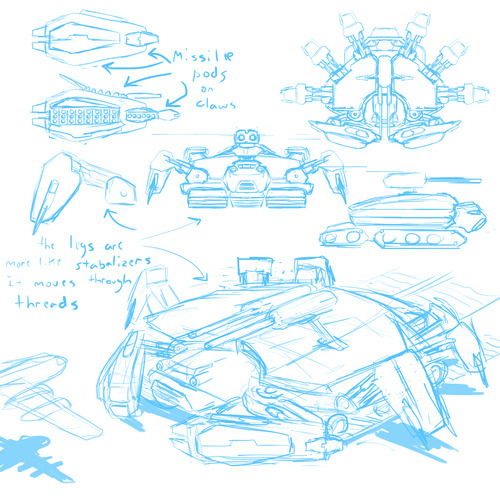 and the other, the water-based one: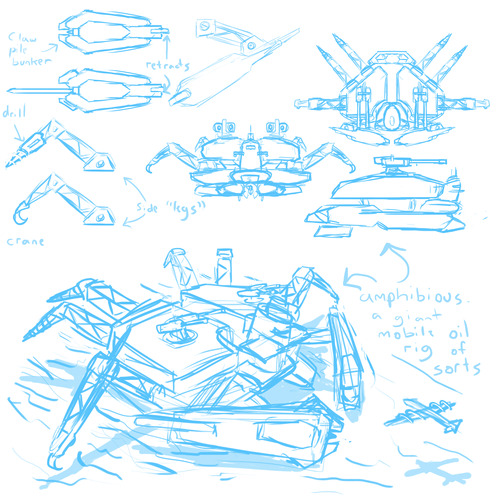 After some thought and discussion with several members of the game team that this concept is going for, it is decided that the water-based, oil rig version will be given a shot. So off to finalizing the concept I go…