It's been a while, hasn't it? Over these past few months, we haven't really given you guys anything to stare at. Besides three images, all we've really shown you is that we're a fresh new take on the modding community, with a unique 3rd person hacknslash/gunplay modification for Half-Life 2.
Well, we're proud to announce two new concept art images. Not only that, but we have finally started putting up our site. Despite only having forums up right now, you can sort of see what our flash site is like by going here.
The two new CA images contain the Special Forces of the guard units inhabiting Mokta (the planet the story of the game is based around) of a regiment called the 'Sentry'.
Sentry Special Forces Guard #1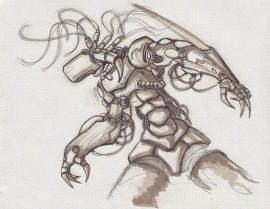 Sentry Special Forces Guard #2
(Since these images were rather large, I had to convert them into .gif files. Please click on them to view much-better versions of these images :))
I hope you guys appreciate the new information, and we'll try our best to release more information as soon as it's available. Please leave comments in our profile, and we'd really love it if we had people join up on the forum. There, you can ask questions about the mod and also comment or even leave suggestions on how we can make it better/explain it better. Thanks a lot, and I hope you'll stay tuned for more information about "Project Masamune".