Changes in the team
Before this update we had some very turbulent weeks, but we managed to restructure the team and to get some new workers.
Following happened during the restructuring:
Horst took over N8boy's job as leader, N8boy is now Co-Leader. Horst managed to organize some new members for the team.
Amongst others three former Aurora members joined the team:
Xxnix, who works now as Level Designer, Sebi works as Q&A tester and as Props & Generic Modeler and Nanobot, who is our new story writer.
Furthermore Seth, a Props & Generic Modeler, reinforced the team.
With all these new members we can work more effectively now.
Our first mission in Batar is shaping up now. The complete Mod Story will be revised. Some parts are finished, but others still are only fragments.
Our new homepage
During our restructuring we rebuilt the homepage. A new design was made for the main page. With this design we can present you the information much better than before. We will publish information about the modification here first.
The Prehistory
We will stick to our plan to keep the missions secret. But since we didn't publish much information about the Mod, we worked out a new prehistory. Especially the happenings right before Codename: Deadbird are described more precisely. We don't want to show you an average story, like every mod has one, we decided to try another form: Instead of having a small text, the story is built up as a sequence of newspaper clippings.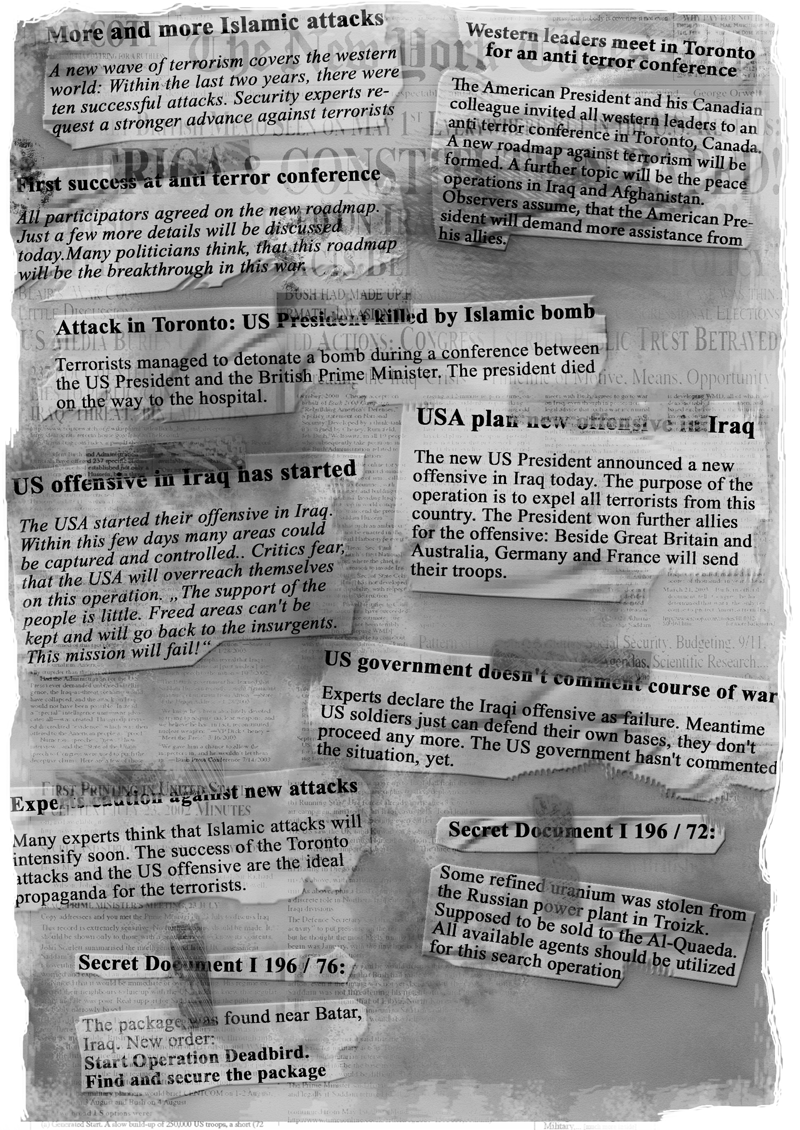 Images from Batar
Every good community update needs in game images. The ones below show the city Batar. The first mission will take place there. When fighting against terrorists the player has to adopt to the surroundings: You will fight in narrow streets and in the wide desert.
Codename: Deadbird Ingame Video
After our absence we have planned something special for you:
Our new video shows some more details from the Mod. You can see there our first in game weapons: The Beretta M9. With these weapons we want to introduce you our new attachment system. You might know it from Crytek's "Core X" Video. However, we changed some details: When opening the menu and clicking on an attachment, you will see a ghost view first. When the menu is closed, the attachment will be mounted on the weapon.
We hoped you enjoyed our update. When there is enough progress in our mod, we will come back with another update.
-Dark Dust Studios